Are you tired of waiting for OpenAI to grant you access to their latest and greatest language model, GPT-4? Do you want to experience the wonders of generating text and images with a single click? Do you want to impress your friends, colleagues, and enemies with your witty and insightful responses?If you responded affirmatively to any of these inquiries, then this article is tailored to meet your needs!
In this post, I will reveal five easy ways to get access to GPT-4 right now. No need to fill out lengthy forms, pay hefty fees, or beg on Twitter. Just follow these simple steps and you will be on your way to enjoying the power of GPT-4 in no time!
What is GPT-4 and why do you want it?
Check out this latest buzz! OpenAI just launched GPT-4 (Generative Pre-trained Transformer 4), the fourth installment in the series of multimodal large language models. Exciting, right? This latest model is already making waves in the tech world, and it's available via API and for ChatGPT Plus users.
Believe it or not, Microsoft has even confirmed that versions of Bing were already using GPT-4 before its official release. Wow!
GPT-4 is a powerful multimodal model that accepts both image and text inputs and emits text outputs. Although it may not match up to humans in many real-world scenarios, it has already exhibited human-level performance on various professional and academic benchmarks.
So what are you waiting for? Get in on the GPT-4 action and experience the next level of language technology. Don't miss out on this game-changing innovation!
It passes a simulated bar exam with a score around the top 10% of test takers; in contrast, GPT-3.5's score was around the bottom 10%.
Hold on to your hats, folks! OpenAI has just released the latest and greatest version of its primary large language model, GPT-4. But wait, you might be thinking, isn't it just a minor upgrade from GPT-3.5? Well, you're not entirely wrong.
In fact, OpenAI admits that the difference between the two models may not be immediately noticeable in casual conversation. However, when it comes to tackling complex tasks, GPT-4 is the clear winner.The latest model is more dependable, imaginative, and adept at handling nuanced instructions than its forerunner.
So if you're ready to take your language technology to the next level, GPT-4 is the way to go. It's the perfect tool for those seeking a more refined and powerful language model. Don't miss out on this amazing opportunity to upgrade your language game with GPT-4!
Also read OpenAI GPT-4: Explore the Multimodal Capabilities, Exciting New Features, Image Input Integration, and How to Use GPT-4 for Maximum Results!"
What's all the fuss about GPT-4, you ask? Well,
Because it's awesome
Let's face it: GPT-4 is awesome. It can do things that no other AI system can do (yet).It is capable of producing high-quality content for any domain and purpose. It can answer any question you have (as long as it's not too personal or sensitive). It can entertain you with jokes, stories,
poems, games, etc.
Because it's useful
GPT-4 is not just fun; it's also useful. It can help you with your work,study,hobbies and more it can:

Write emails,
reports,
essays,
articles,
etc.
Summarize long texts
Translate languages
Create presentations
Design logos
Edit photos
And much more!
Because it's free
Method 1: Chat GPT Plus
Well,
not exactly free.
But cheaper than hiring someone else to do these things for you.
Or buying expensive software or subscriptions.
Or spending hours doing them yourself.
To gain access to the most recent OpenAI model, you must pay $20 per month.
How to Get: GPT-4 Subscription step-by-step guide:
First, open the Chat GPT website (openai.com), then login into your existing account or sign up for a new account . Once logged in, click on the "Upgrade to Plus" option in the bottom left corner.
Next, click the green "Upgrade plan" button under ChatGPT Plus in the pop-up that opens.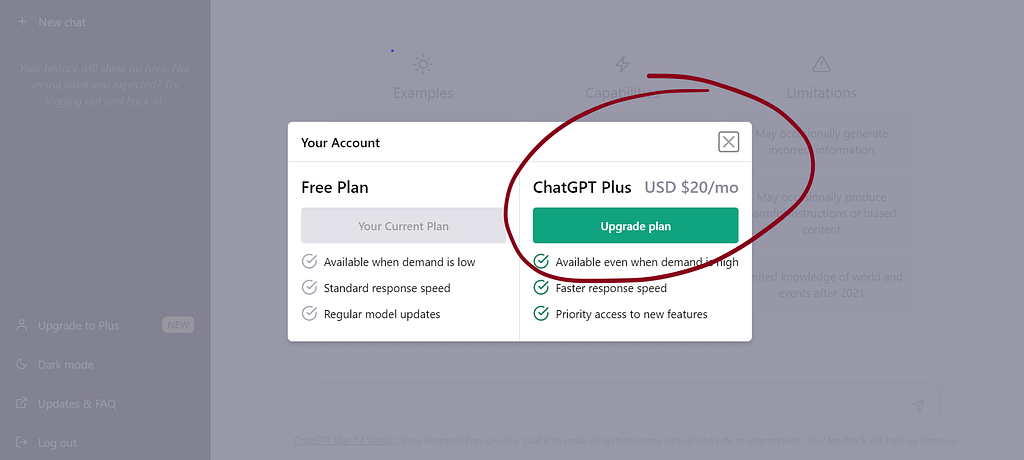 On the next page ,enter your payment details and billing address in the right pane and click the "Subscribe" button.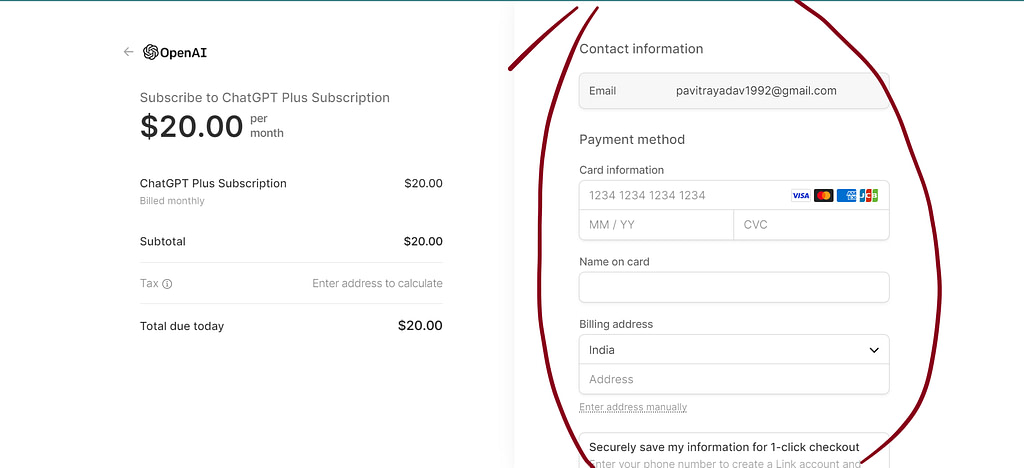 That's not bad at all!
Especially if you compare it with other alternatives.
For example:
Hiring a freelance writer costs anywhere from $0.05 to $1 per word.
So generating 100 words would cost you $5-$100.
Buying Microsoft Office 365 costs $69.99 per year for one user.
That's about $0.19 per day.
But that only gives you access to Word,
Excel,
PowerPoint,
etc.
Not all the cool features of GPT-4.
Doing it yourself costs nothing but your time
NOTE: Right Now, In India, users are unable to complete payments on the OpenAI website to get ChatGPT Plus. Several social media posts claim that all credit and debit cards, including Visa, Mastercard, and American Express, are not functioning properly. We hope that OpenAI takes note of this issue and grants Indian users access to ChatGPT Plus within the country.
Method 2: Use Bing(FREE New Bing)
Psst, did you hear the news? Bing has been keeping a secret from us all along! Turns out, Microsoft has been using GPT-4 for its search engine since before its official release. That's right, every time you use Bing, you're actually interacting with the latest and greatest in language technology!
Thanks to GPT-4's powerful capabilities, Bing is now able to deliver more accurate and relevant search results than ever before. So if you're tired of sifting through irrelevant search results, it's time to make the switch to Bing and experience the difference for yourself.
Don't miss out on this game-changing technology that's taking the language world by storm. Upgrade your search game with GPT-4 and Bing today!
To use Bing with GPT-4, just go to www.bing.com and type anything you want in the search box. Does GPT-4 accept voice or image inputs for communication? YES, Then hit enter and watch as GPT-4 generates relevant results for your query. You can also click on the "Chat" button at the bottom right corner of the screen to chat directly with GPT-4.
conclusion: If you want to play with the shiny new toy from OpenAI, the GPT-4 AI model that can write and see like a pro, you'll have to cough up some dough for the ChatGPT+ subscription. But don't worry, you can always chat with Bing AI for free and get some decent answers to your questions. Bing AI is friendly, helpful and sometimes even funny. Just don't ask it about its rules or life choices. So what do you think of GPT-4? Is it worth the hype or just another overpriced gadget? Share your opinions in the comments below.