Get your SEO game on with ChatGPT, the ultimate writing buddy! Unleash its powerful capabilities and be amazed. ChatGPT for writers is the way to go! From keyword research to content optimization, ChatGPT has got you covered. Trust me, it's like having a witty sidekick that always knows the latest SEO trends. So, ready to dominate the SERPs with ChatGPT? Let's go!
Get ready to supercharge your SEO campaigns with ChatGPT! In this article, I'll give you the lowdown on 10 killer strategies for using ChatGPT to optimize your content and streamline your workflow. No fluff, no nonsense, just pure SEO goodness. So, buckle up and let's dive right in, shall we?
1: Brainstorming ideas for articles or videos
Stuck in a content creation rut? No worries, ChatGPT has got your back! With its AI-powered brainstorming capabilities, ChatGPT can help you come up with killer ideas for articles and videos. Say goodbye to writer's block and hello to creative inspiration! Trust me, your audience will thank you for it.
Example and response: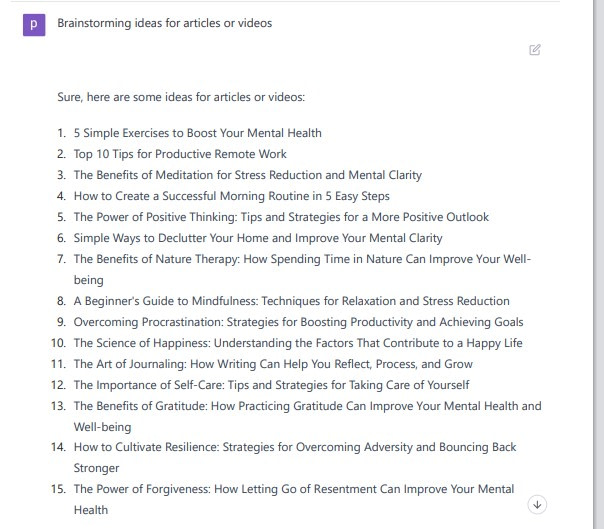 How to improve ChatGPT response times
If you want to unlock the full potential of ChatGPT, give it the deets about you or your website/YouTube channel. The more details you provide, the more personalized and detailed responses you'll receive. ChatGPT can provide insights on various subtopics too, so don't hesitate to request them. Remember, the key to successful SEO is to always keep learning and optimizing. And with ChatGPT as your ally, you'll be unstoppable!
2: Creating outlines for articles or/and videos
Say goodbye to tedious outlining and let ChatGPT do the heavy lifting for you! With its powerful AI algorithms, ChatGPT can create detailed outlines for your articles or videos that include section titles and subtopics. This not only saves you time but also ensures that your content is well-organized and easy to follow. Trust me, your readers/viewers will appreciate the clarity and coherence of your content.
Example and response:
How to improve ChatGPT response times
When creating an outline with ChatGPT, you have the power to choose what to include and what to skip. While ChatGPT may catch some errors like poor anchor text, it's up to you to decide which suggestions to utilize. For instance, you may want to avoid tactics like keyword stuffing or shady link building, even if ChatGPT initially proposes them. The key is to strike a balance between following best practices and staying true to your brand's voice and tone
3: Improving copy
Say goodbye to grammar and punctuation gaffes with ChatGPT by your side! Not only can ChatGPT help you polish your writing with spot-on grammar and punctuation suggestions, but it can also ensure that your content is readable and easy to understand for your target audience. And the best part? ChatGPT can assist in matching your brand's voice and tone to the audience's preferences, making sure your content hits all the right notes. Trust me, your readers will thank you for the seamless reading experience!
Example and response: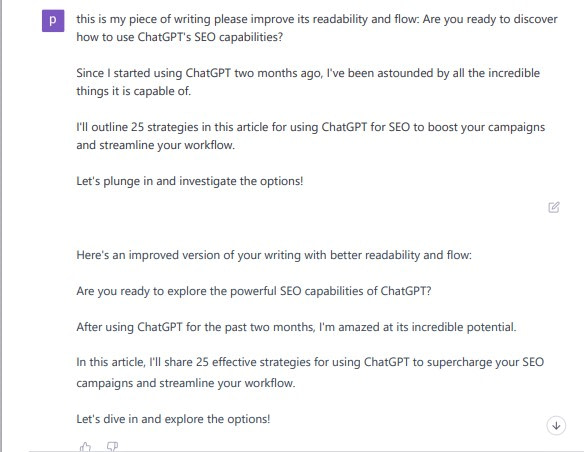 How to improve ChatGPT response times
Provide a clear prompt.
I don't speak native English, thus I like the ChatGPT version of that portion more.
Also read 10 Best SEO Tools For Digital Marketers In 2023
4:Summarizing articles
Tired of sifting through lengthy articles to find the key takeaways? Say no more, ChatGPT has got your back! With its advanced summarization capabilities, ChatGPT can extract the main points and summarize articles in a jiffy, saving you time and effort. No need to read the entire article anymore – ChatGPT has already done the heavy lifting for you. Trust me, your productivity will skyrocket with ChatGPT as your go-to summarization tool.
Example and response: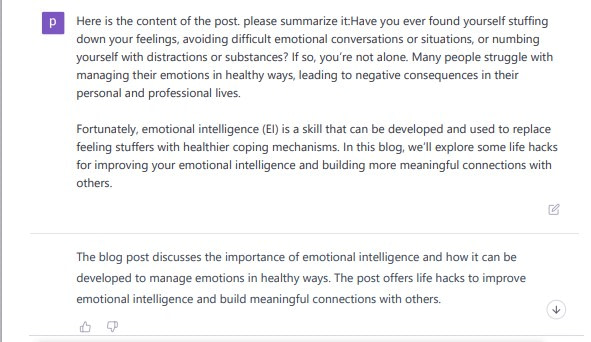 How to improve ChatGPT response times
Always read the summary carefully because occasionally it could not be entirely accurate.
This is excellent for creating newsletters that include article summaries.
5: Writing and answering FAQs
Are you tired of answering the same old customer queries over and over again? ChatGPT to the rescue! With its advanced natural language processing capabilities, ChatGPT can help you write responses to frequently asked questions and even assist in drafting new FAQ content for your website or product. Save time and reduce workload with ChatGPT's intelligent automation. Your customers will appreciate the prompt and personalized responses too!
Example and response: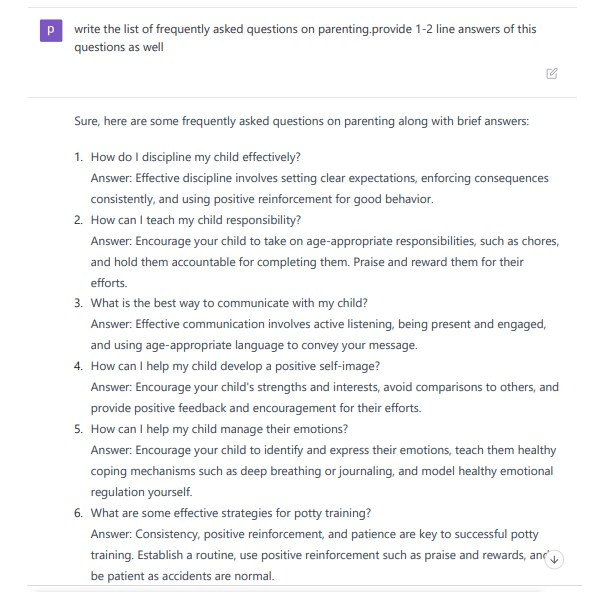 How to improve ChatGPT response times
One of ChatGPT's features that I like the best is the ability to create and respond to Questions.
You'll be genuinely astonished if you ask it to generate additional FAQs.
Related article how to dominate Microsoft 365 with the coolest cat – Copilot, the smartest AI ever!
6: Writing e-mails
Need help with writing professional and personalized emails? Look no further than ChatGPT! With its sophisticated language processing algorithms, ChatGPT can assist in crafting effective email messages that are tailored to your target audience. Say goodbye to the hassle of composing emails from scratch and save time and effort with ChatGPT's intelligent automation. Improve your email communication game and build stronger relationships with your clients or colleagues.
Example and response:
7: Writing social media posts
ChatGPT can help generate attention-grabbing social media posts to increase engagement and reach.
Example and response: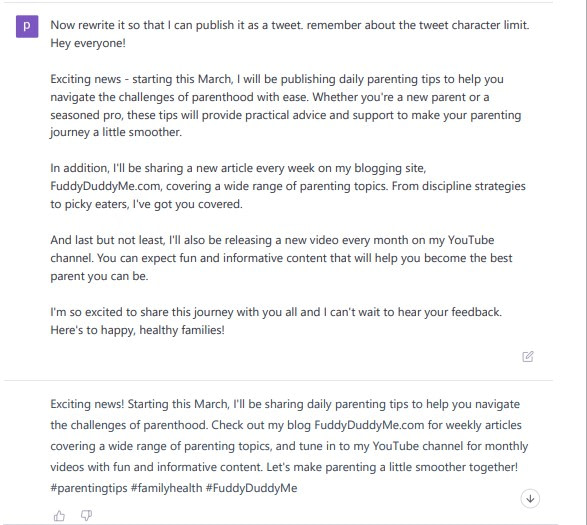 8: Imitating your style of writing
Through the use of a sizable sample of text, ChatGPT can be fine-tuned to adopt someone's writing style. With this unique feature, ChatGPT can generate fresh content that closely matches the tone, vocabulary, and writing style of the person being emulated. This capability can be especially useful for writers or businesses that require a consistent brand voice across their content. Trust ChatGPT to deliver highly personalized and authentic content, every time.
Example and response:
9: Generating semantically related keywords
ChatGPT can help you generate semantically related keywords. This can be useful for SEO, as it can help you identify relevant keywords to include in your content.
Example and response: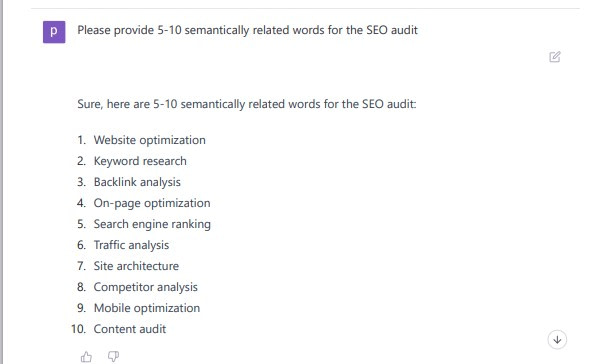 10: Writing page titles
Crafting an effective page title can be challenging, but ChatGPT is here to help. With its advanced language processing capabilities, ChatGPT can provide title suggestions that accurately reflect the content on the page, while also incorporating relevant keywords that appeal to your target market and industry. Trust ChatGPT to deliver optimized page titles that will drive traffic to your website and improve your overall SEO performance.
Example and response: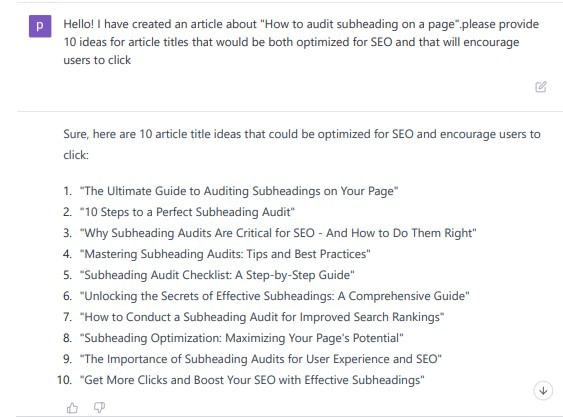 Conclusion:
ChatGPT is a versatile tool that can significantly enhance your SEO efforts. I encourage you to try out some of the concepts and strategies discussed in this article and see the results for yourself.
Remember that ChatGPT offers more than just simple question-answering capabilities. It can assist with content creation, competitor analysis, keyword research, and much more.
With ChatGPT, you can save valuable time and energy while gaining valuable insights into your SEO campaign's performance. I urge you to experiment with ChatGPT and discover what works best for your unique needs.
Lastly, if you have any exciting and innovative ideas for utilizing ChatGPT for SEO, please share them in the comments section. Let's continue to explore the endless possibilities of this remarkable tool together!