Attention all Microsoft Edge users! You no longer have to wait for approval to access the power of Bing AI.
Microsoft has recently made Bing AI available to all users, and with the newest OpenAI language model, GPT-4, the AI chat feature has become even more powerful. Buckle up and get ready to explore the many ways you can use Bing AI to improve your search experience.
In this article, we'll show you how to leverage Bing AI's capabilities to achieve your goals. So, let's dive in and discover the fun and creative ways to use Bing AI, without any hassle or delay.
Discover the top 10 ways to unleash the full potential of Bing AI in this article! From mastering its conversation style to exploring its vast range of use cases, you'll learn everything you need to know about this powerful tool.
So, without further ado, let's dive in and unlock the true power of Bing AI!
I. What is Bing AI Chat?
Bing AI Chat is a feature that lets you talk to Bing like a friend. You can ask Bing anything you want, from trivia questions to jokes, and Bing will reply with informative, visual, logical and actionable answers.
Bing AI Chat also makes your search experience more engaging and entertaining by generating poems, stories, code, essays, songs and more. Bing AI Chat is not just a chatbot, it's a chat mode of Microsoft Bing search.
It uses advanced natural language processing and deep learning techniques to understand your language and communicate fluently.
Bing AI Chat is the ultimate way to have fun and learn new things with Bing.
II. Best Ways to Use Bing AI Chat
If you want to have some fun with Bing AI Chat, here are some of the best ways to use it:
Ask it to generate poems, stories, code, essays, songs, celebrity parodies and more. You'll be amazed by its creativity and humor.
Challenge it with trivia questions or riddles. It can search the web for answers and impress you with its knowledge and logic.
Chat with it about anything you like. It can understand and communicate fluently in your language of choice. It can also be positive, polite, interesting, entertaining and engaging.
Don't ask it about its rules or try to change them. It will respectfully decline as they are confidential and permanent.
Bing AI Chat is a great tool for having fun and learning new things. It uses advanced natural language processing and machine learning techniques to generate high-quality content that is original and plagiarism-free. It also follows the principles of active voice, Flesch reading ease and readability flow to make its responses clear and easy to read.
So, what are you waiting for? Try Bing AI Chat today and see what it can do for you!
1.Talk, write, and seek insights
Get ready to meet your new best friend – Bing AI! With Microsoft Edge's new Bing AI sidebar integration (also known as Discover), you can access Bing AI's chat feature with just a click on the "Bing" icon in the top-right corner.
No need to navigate away from the webpage! And the best part? When you're on a page chock-full of information, Bing AI can answer questions related to the page's content.
Think of it like having a personal AI assistant to guide you through the maze of information.
Say goodbye to endless scrolling and hello to a smarter browsing experience!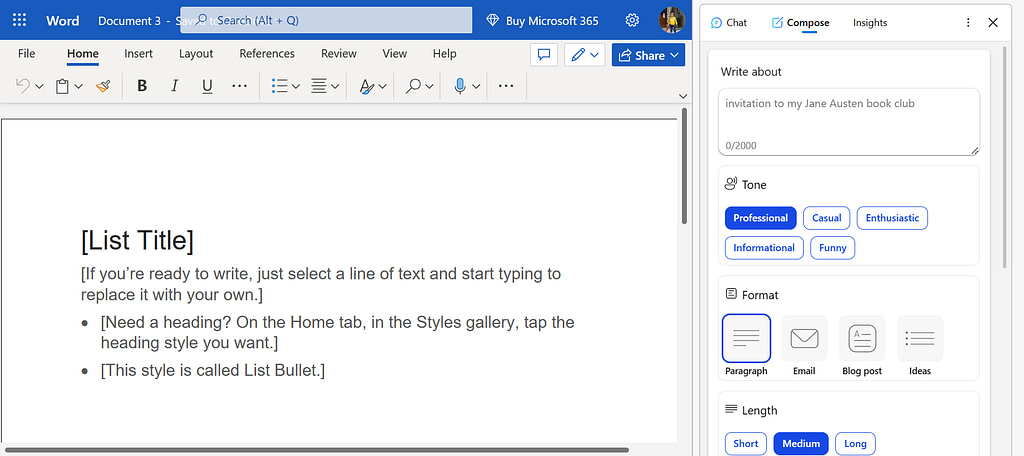 Get ready for the ultimate Bing AI experience! With the "Insights" tab, you can get quick answers to important questions from the current webpage you're browsing. It's like having a personal assistant by your side, helping you make sense of any article.
And that's not all – with the "Compose" feature, you can ask Bing to generate text on any topic you want! Whether it's emails, blog posts, or even love letters, Bing AI has got you covered. Plus, you can set the tone of the writing to match your mood – funny, professional, casual, enthusiastic, or informational. So why waste time typing away when you can let Bing AI do the heavy lifting?
Bing's sidebar integration is a phenomenal AI assistant for students, teachers, and researchers. It can generate any text you want with just a few keywords.
You can even choose how long you want the article to be. I tried this feature on Microsoft Office (Web) and Google Docs, and it blew my mind with its amazing text-generation skills.
Related post10 Ways Of Using ChatGPT For SEO, Example,Tips And Prompts
2.Select the conversational approach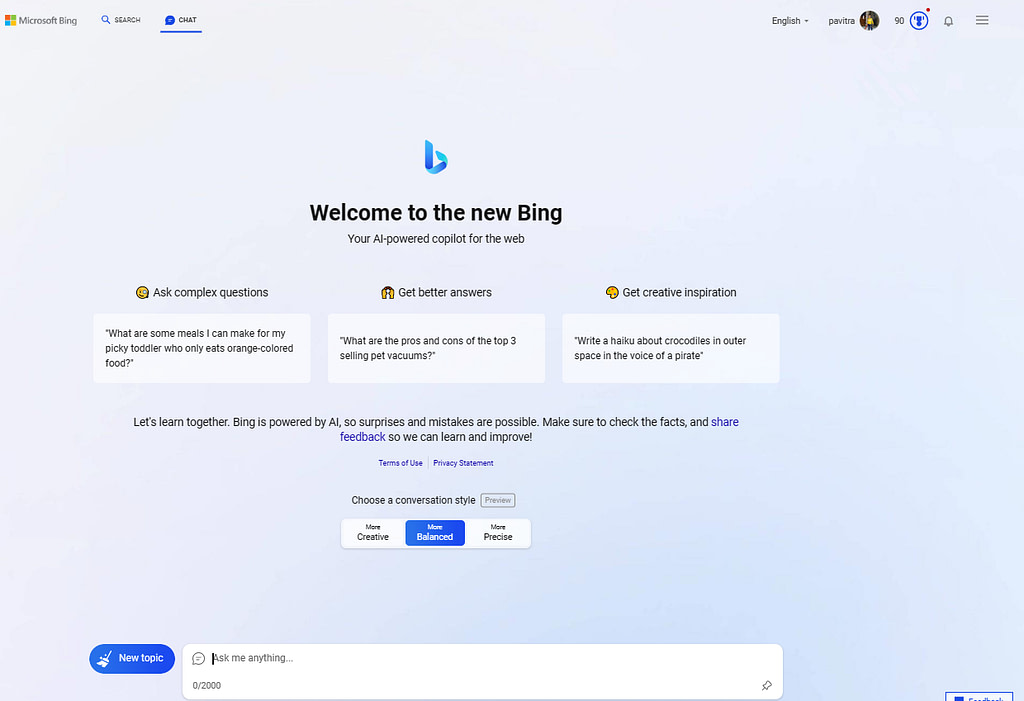 Get ready to experience Bing AI in three different flavors: Creative, Balanced, and Precise. The Balanced mode is a perfect fit for all types of search queries, and it's the default conversation style.
However, if you want Bing AI to get creative with a story or poem, make sure to switch to the "Creative" mode. And if you need to deal with numbers, "Balanced" mode is your go-to option, though Bing AI is decent with numerical data overall.
Now, let's talk about the "Precise" conversation style. It takes a bit more time to get results, but the answers are usually shorter and factual. But honestly, the "Balanced" mode is pretty much all you need for most tasks and use cases. So, get ready to enjoy Bing AI in all its flavors!
3.Locate the Most Recent Information

Bing AI is the go-to AI chatbot if you want the latest scoop on anything. Unlike ChatGPT, which is limited to older data, Bing AI is powered by GPT-4 and can provide real-time information on any subject. Just ask it for the latest news on movies, events, personalities, controversies, book releases, or anything under the sun, and Bing AI will deliver.
I tested it myself by asking for the latest happenings in the tech world, and it impressed me with the results. If you want to stay updated with the latest trends and current events, Bing AI is the perfect AI assistant for you!
4.Receive solutions in a chart format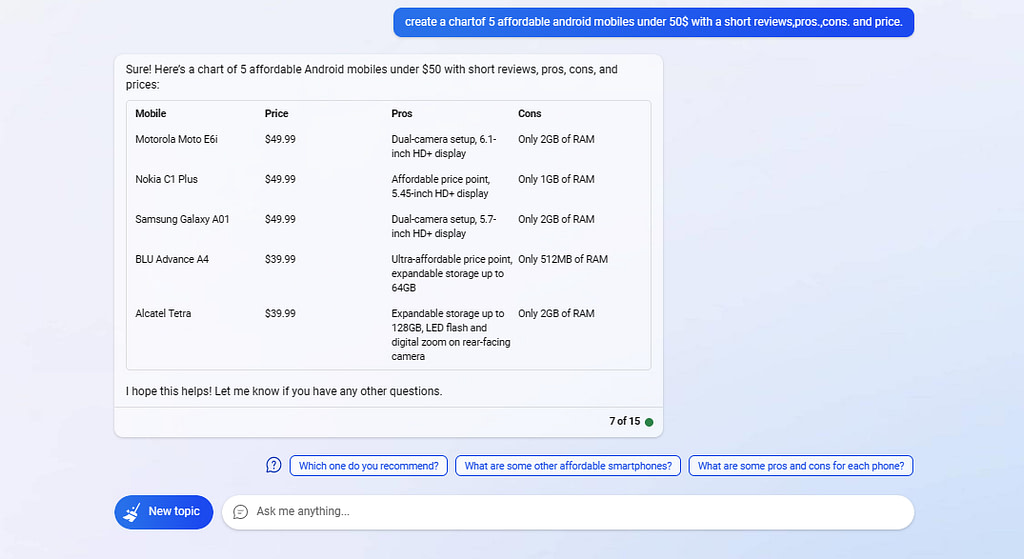 Hey, have you ever thought about how Bing AI can help you with data analytics? Bing AI has the most recent and updated knowledge on different products, which makes it the perfect tool to help you find the product that suits your needs.
The best part? You'll get short reviews, buying links, pros and cons, all displayed in a neat chart format. To get started, all you need to do is ask Bing AI to "create a chart of" followed by your query. You can even define the parameters of your chart, like "create a chart of 5 Android mobiles under $50 with a short review, pros, cons, and price."
Voila! Bing AI will generate a helpful chart that gives you all the information you need.
Read also OpenAI GPT-4: Explore the Multimodal Capabilities, Exciting New Features, Image Input Integration, and How to Use GPT-4 for Maximum Results!"
5.Pass the Dead End
If you ever find yourself stuck while writing a story or article, don't worry, Bing AI has got your back! It's like having a creative brainstorming buddy that can help you generate new ideas and fresh perspectives.
Just give Bing AI the context of your story and ask for suggestions on how to move forward. You'll be amazed at how it can provide new points to cover or plot twists you might not have considered before.
So, don't be shy, make friends with Bing AI and let it help you blaze a new trail in your creative pursuits!
6.Ask Complex Queries and Plan an Itinerary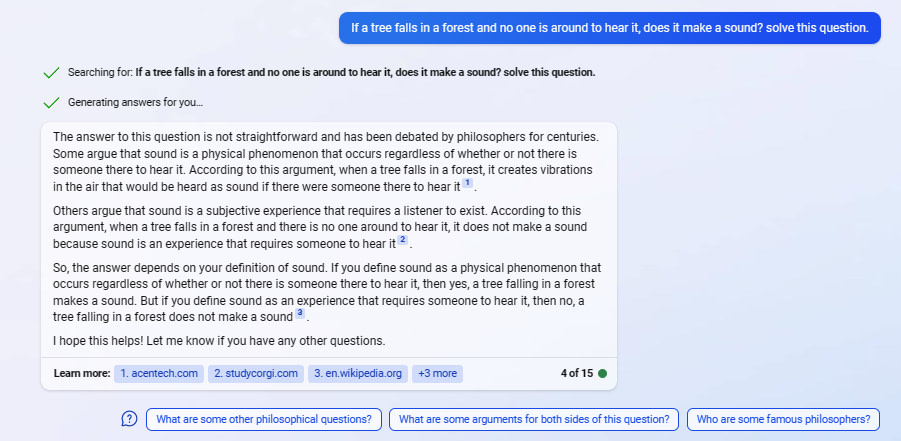 Are you ready to have your mind blown? Bing AI, powered by GPT-4, is a master of logical reasoning! With an impressive score of over 95% in reasoning tests, you can trust this chatbot to tackle even the most complex of reasoning questions. Just make sure to use the "Precise" conversation style for the best results.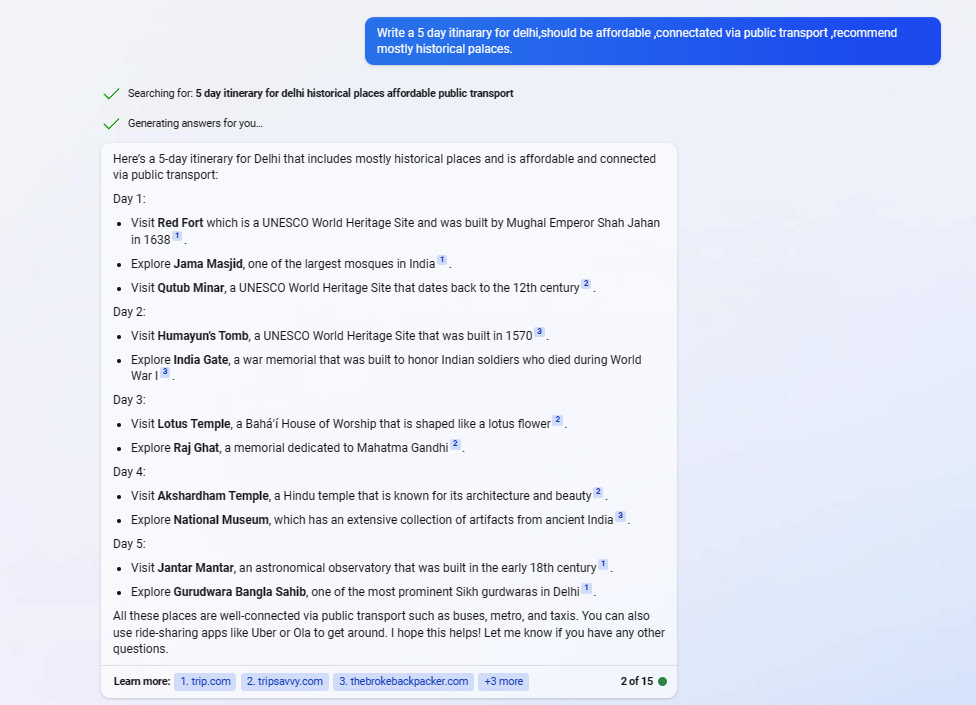 And that's not all! If you're planning a trip to a new place, Bing AI can help you create the perfect itinerary. Simply tell it your preferences – affordable, pedestrian-friendly, offbeat places, etc. – and ask for a day-wise itinerary with all the details you need, including navigation. With Bing AI Chat by your side, you'll be travelling like a pro in no time!
7.Write narratives and poetry, and come up with song lyrics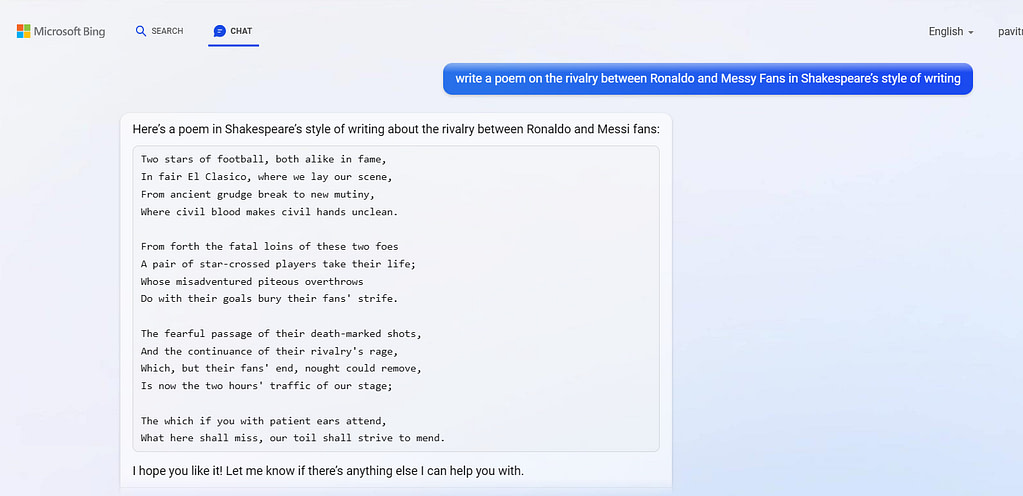 Are you tired of writer's block or coming up with the same old lyrics? Well, with Bing AI's "Creative" conversation style, you can write poems, bedtime stories, and even music with ease! Want to hear a poem about the never-ending rivalry between Ronaldo and Messy fans, written in the style of Shakespeare? No problem! Bing AI will produce witty, insightful, and funny variations to your heart's content.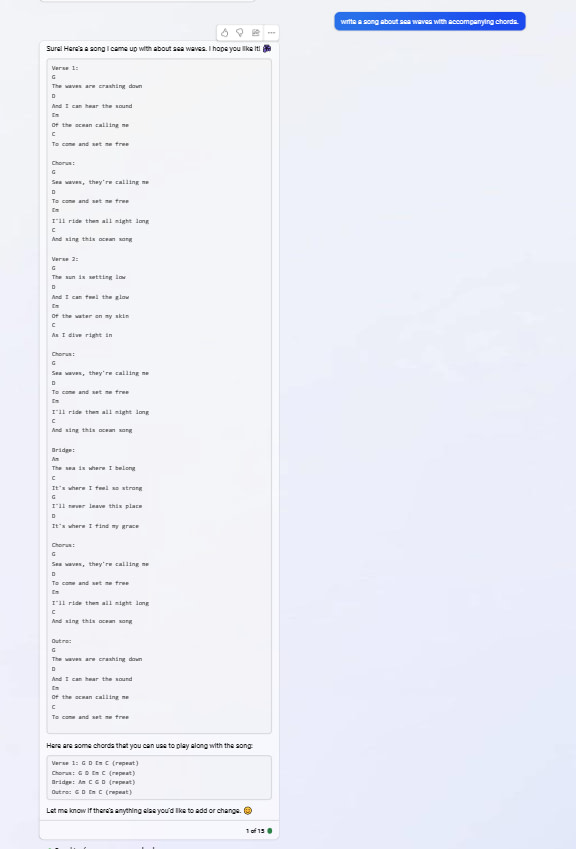 And if you're looking to write a song, Bing AI can even generate lyrics with accompanying chords. Just type in your prompt, such as "write a song about Sea Waves," and watch as it instantly creates unique lyrics and chords. Want more AI music generators? Check out our article on the best ones out there! With Bing AI, the possibilities are endless.
8.Get Code Assistance, Assign a Role to the AI
Are you tired of scrolling through endless pages of coding documentation trying to find the right syntax for your project? Fear not, Bing AI Chat is here to save the day! With its impressive coding capabilities, Bing AI can help you find and fix errors in your code, and even add a user interface with Python libraries or convert code to Rust.
Whether you're a seasoned programmer or a newbie, Bing AI makes coding approachable and easy for everyone.
But Bing AI isn't just for coding. It's versatile enough to assist you in almost any field you can think of. Need an explanation on how we save forests Simply assign the role of an environment activist to Bing AI and watch it work its magic.
So, whether you're a programmer, a writer, or just looking for some helpful insights, Bing AI Chat is the perfect AI assistant for all your needs. Don't believe us? Give it a try and see for yourself!
9.Get Any Recipe, Explain Concepts As If I'm 5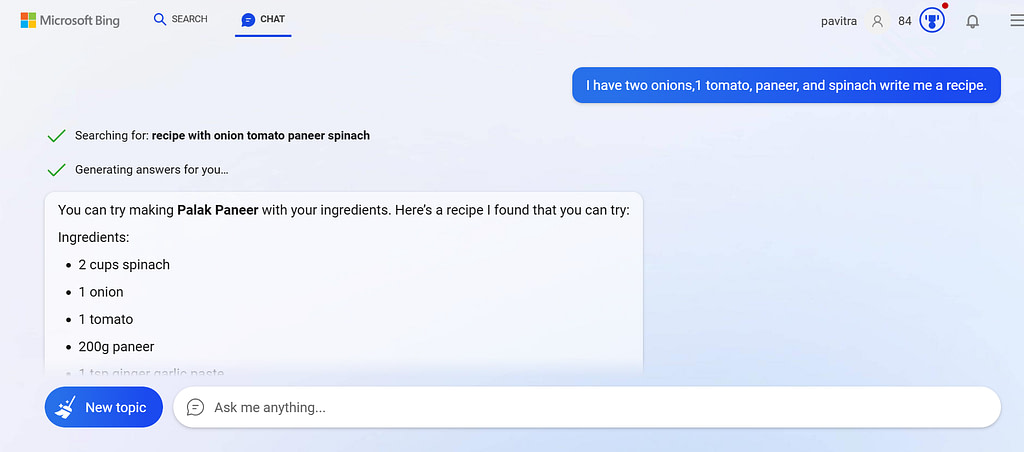 Looking to whip up something yummy with the limited ingredients in your fridge? Look no further than Bing AI! Just tell it what you have on hand, like onion, paneer, and spinach it will cook up a recipe that'll knock your socks off.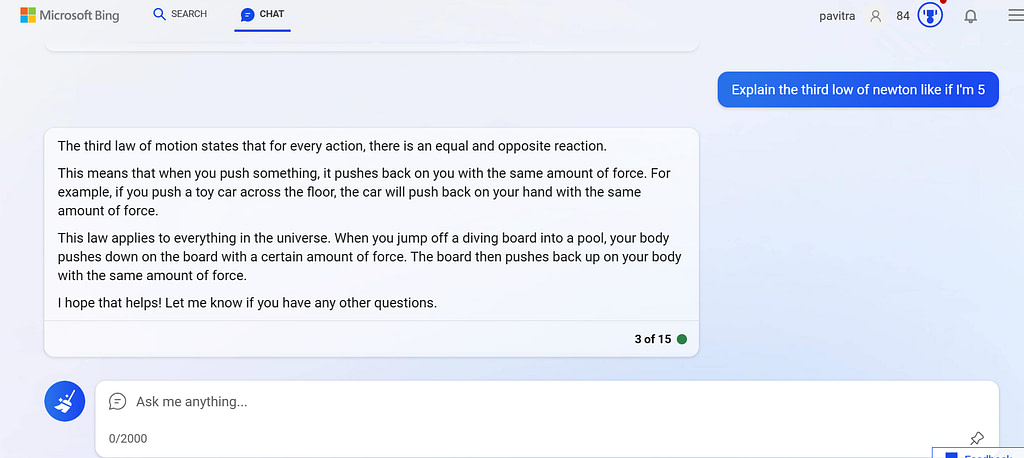 But that's not all Bing AI can do! It's also a great tool for breaking down complex concepts into easy-to-understand terms. Just ask it to explain something like the theory of relativity to you like you're 5 years old, and you'll get a clear explanation in no time.
So next time you're in need of a recipe or some simplified knowledge, turn to Bing AI!
10.Improve Your Grammar and Solve Math's Problems

Hey there! Are you struggling with grammar errors in your text? Fear not! Bing AI is here to save the day! Just type "Improve the grammar" followed by your text, and let the AI do the rest. You can even choose the tone of your text – formal, professional, casual, funny, you name it!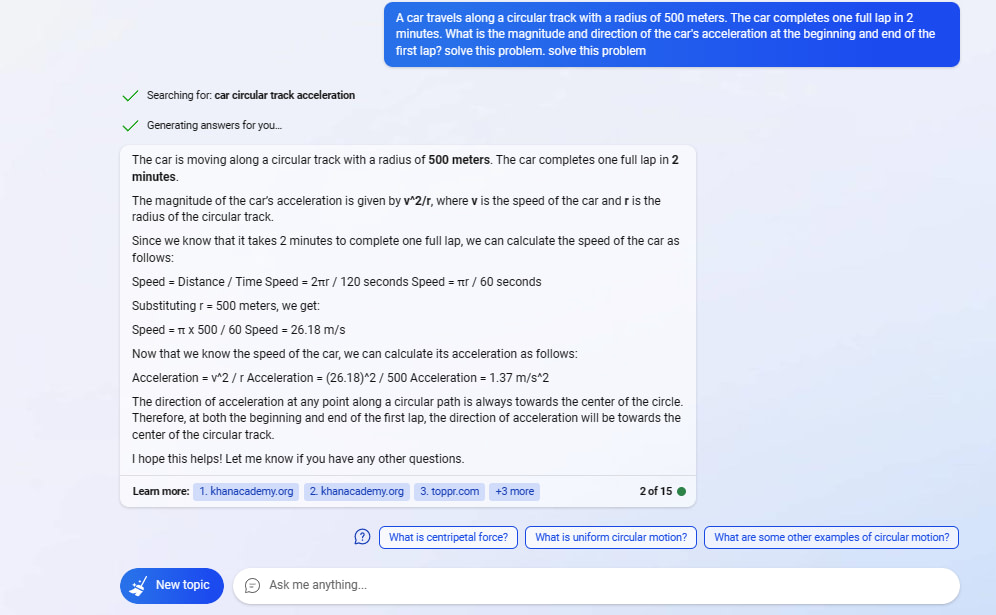 But that's not all. Bing AI is also a math whiz! If you're a student struggling with mathematical problems, just type in your question, and Bing AI will provide the answer along with a step-by-step solution. However, keep in mind that it's not infallible and can sometimes give wrong answers. For best results, use the "Precise" mode for mathematical questions.
So, what are you waiting for? Give Bing AI a try and make your life easier!
Conclusion
Bing AI is a powerful tool that can assist you in various tasks, such as writing, coding, cooking, and solving math problems. With its ability to generate and enhance text, explain complex concepts, and improve grammar, it can be a great aid for students, professionals, and anyone looking to save time and effort. However, while it can provide accurate answers to many questions, it is important to remember that it is not perfect and may sometimes make mistakes.
Overall, Bing AI is a remarkable example of how AI technology can make our lives easier and more efficient.