Creating a resume that showcases your career achievements can be a challenging task. ChatGPT can assist you with that.
Looking for a job is like searching for a needle in a haystack – it's a tedious process that can drive anyone crazy! Whether you're a fresh graduate or a seasoned professional, finding the right job is never easy. And to make things worse, you have to sum up your entire professional life in one job application.
But don't worry, because ChatGPT is here to rescue you from this job search nightmare! With our resume-building tips, you can make the process a breeze and land your dream job in no time.
Say goodbye to boring and passive sentences! We'll help you make your resume pop with active and engaging language. We'll show you how to highlight your skills, experiences, and achievements in a fun and witty tone that hiring managers won't be able to resist.
From crafting the perfect cover letter to building a creative portfolio, we've got you covered. And of course, we can't forget the most intimidating part – the CV or resume. But fear not, because we'll guide you through the process step by step and make sure your resume stands out from the crowd.
So what are you waiting for? Let ChatGPT help you land your dream job and start your career on the right foot!
ChatGPT: How to Boost Your Job Application Success with AI
Hey, job seekers! Are you tired of staring at a blank page, struggling to come up with the perfect bullet points for your resume? Or maybe you already have some bullet points, but they're just not cutting it. Well, fear not, because ChatGPT is here to save the day!
Our AI-powered tool can help you generate brand new ideas and bullet points from scratch or refine and optimize your existing ones. We'll make sure your resume is the cream of the crop and stands out from the sea of boring job applications.
ALSO How ChatGPT is transforming the way people use AI Chatbot
But wait, there's more! ChatGPT isn't just limited to bullet points. We can also answer any burning questions you have about putting together your resume and offer up some best practices to help you land your dream job.
And if that's not enough, you can also check out Bing Chat, which is like ChatGPT's cool older sibling with access to the internet. It's like having your own personal assistant right at your fingertips, ready to help you with anything and everything related to your job search.
So, what are you waiting for? Let ChatGPT and Bing Chat be your ultimate job search wingmen, guiding you to success and helping you navigate the treacherous waters of job hunting.
1.How to Pick the Right Resume Template for Your Job Search
Are you ready to create an eye-catching resume that'll knock the socks off any hiring manager? Well, before you can start filling in the juicy details, you need to pick the perfect template to showcase your skills and personality.
Whether you're using Google Docs, Microsoft Word, or Canva, these programs typically come equipped with a variety of resume templates to choose from. But why settle for just any old template when you can pick one that truly represents YOU?
ALSO How to Craft Engaging and Effective ChatGPT Prompts In 6 Easy Steps 
Don't know where to start? A quick Google search will reveal hundreds of editable templates that you can import into your program of choice. With so many options to choose from, it can be overwhelming, but fear not, because we're here to help.
We recommend selecting a template that aligns with your personal brand and highlights your unique skills and experiences. Do you have a creative side? Maybe a colorful and quirky template would be the perfect fit. Or perhaps you're more of a traditionalist and prefer a classic and straightforward layout.
Whatever your style may be, we'll help you pick the perfect resume template that's sure to impress any hiring manager. So let's get started and create a resume that showcases the best version of you!
To access the amazing features of OpenAI's ChatGPT, simply visit openai.com homepage and sign up or log in to your existing account. And the best part? It won't cost you a dime! The signup process is a breeze, and it won't ask for any unnecessary credit card or personal information.
ALSO ChatGPT: How to Use This AI Chatbot to Write Code in 3 Easy Steps
2.How to Write Engaging Text for Your Resume with ChatGPT
Are you tired of staring at a blank page, unsure of what to write on your resume? Fear not, because ChatGPT is here to save the day! All you have to do is ask, and this intelligent chatbot will generate text for you from scratch.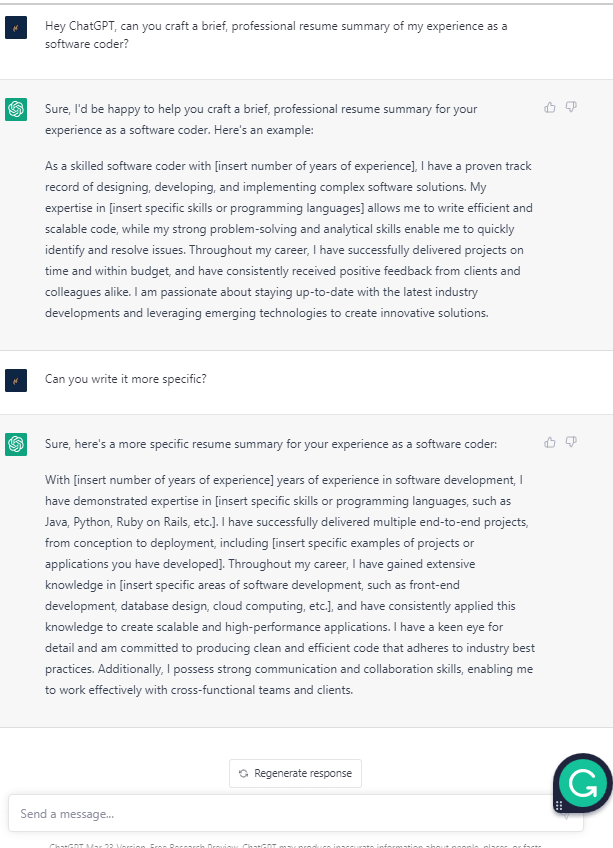 Simply tell ChatGPT what you need, whether it's a professional summary or a specific bullet point for your resume. For instance, try asking it, "Hey ChatGPT, can you craft a brief, professional summary of my experience as a software coder?" Within seconds, you'll have a well-crafted response at your fingertips, as seen in the photo.
ALSO ChatGPT: How does it work? in 8 easy steps.
While ChatGPT is an incredible tool that can generate impressive content, it's important to note that you should always personalize the text to reflect your unique experiences and skills. After all, no one wants to read a generic resume that sounds like it was written by a robot. Your potential employer wants to know what sets you apart from the crowd, so take some time to customize the text generated by ChatGPT.
With a little tweaking and personalization, you'll have a polished and professional resume that showcases your individuality and impresses any potential employer.
3.How to Use ChatGPT to Enhance Your Resume Text and Stand Out
Ready to take your resume to the next level? Look no further than ChatGPT! Whether you've already started filling out your resume template or have an existing resume that needs some fine-tuning, ChatGPT can help you polish up your text in no time.
Simply copy and paste your text into the chatbox and ask ChatGPT to make it better. For instance, try asking, "Hey ChatGPT, can you improve this bullet point: 'I write stories about ChatGPT'?" In just seconds, ChatGPT will generate a more elaborate and professional-sounding bullet point, as shown in the photo.
ALSO How to Design Your App using ChatGPT: In Easy 3 Step-by-Step Guide
But that's not all! ChatGPT is incredibly flexible and can be tailored to your specific needs. Once you receive your result, you can ask ChatGPT to tweak it further with prompts like, "Can you make it shorter?" or "Can you include [additional details]?"
With ChatGPT by your side, you can rest assured that your resume will be polished, professional, and ready to impress any potential employer
FAQs
1.How ChatGPT Can Transform My Resume into a Winning One
Look no further than ChatGPT for all your resume writing needs! This chatbot can generate text for various parts of your resume, including your professional summary and individual bullet points for each experience. Plus, ChatGPT is perfect for enhancing your current resume by optimizing your existing text. Need help with formatting or figuring out what to include? ChatGPT has got your back! This chatbot can provide answers to any questions you have about creating a standout resume.
2.How to Create a Resume that Includes Your Skills, Experience, and Achievements
Don't settle for a mediocre resume that fails to showcase your incredible achievements! Your resume should highlight your educational, professional, and leadership experiences that have made a significant impact on your career. But don't stop there! Go above and beyond by adding all the juicy details that make you stand out from the rest of the job-seeking pack. Don't be shy to show off what makes you unique!
3.What is the price of using ChatGPT to create your resume?
At present, ChatGPT is a free tool that can be used for various purposes, including providing aid in creating resumes without any cost.