ChatGPT is a great helper for your job applications. Learn how to use it effectively for writing cover letters.
A resume is not enough to impress your potential employer. You also need a cover letter that tells your career story and shows why you are the best person for the job.
A good cover letter can make you stand out from other applicants by demonstrating your genuine passion for the role and highlighting the skills and experiences that make you a perfect match.
ALSO ChatGPT: Build Your Resume with in 4 easy steps
Don't worry about writing a one-page letter that summarizes your ideas. ChatGPT is here to help you create a lively and engaging tone that will catch your employer's attention.
So let's begin writing a cover letter that will put you on the shortlist for the job.
Write Better Cover Letters with ChatGPT
Don't let writer's block stop you from creating the perfect cover letter. Whether you're struggling to get started or feeling stuck in the middle, ChatGPT is here to help you produce the cover letter of your dreams in seconds!
With just a few prompts and your direction, ChatGPT can craft a polished and impressive cover letter that showcases your skills, experiences, and genuine interest in the role. So, say goodbye to the stress of writing a cover letter and let ChatGPT do the work for you.
ALSO ChatGPT: How to Use This AI Chatbot to Write Code in 3 Easy Steps
This advanced technology allows you to have a hassle-free experience and create a cover letter with an active and exciting tone that will captivate your potential employer. Trust ChatGPT to create a cover letter that will make you stand out from the crowd and land you that dream job.
Are you ready to experience the full benefits of ChatGPT's cover letter writing services? Head over to openai.com website and create an account to get started!
With just a few clicks, you can easily sign up using your Google or Microsoft account, or create a new account with us. Once you're logged in, you'll have access to all of our exciting features and tools that will help you create a standout cover letter that will impress any potential employer.
1.Get a Professionally Written Cover Letter by ChatGPT
Looking for a top-notch cover letter that can help you stand out from other job applicants? Look no further than ChatGPT! Simply provide us with some basic information about the role and company you're interested in, along with details about your experiences and qualifications.
Prompts:
"Create a professional and engaging cover letter for the position of Software Engineer. I'm a graduate of IIT Delhi, where I majored in Computer Science, and I have 5 years of experience working at TCS."
Our advanced platform will take your input and use state-of-the-art technology to produce a tailor-made cover letter that highlights your unique strengths, skills, and enthusiasm for the industry. With ChatGPT's help, you can feel confident that your application will catch the attention of potential employers and set you apart from the competition.
ALSO How to Design Your App using ChatGPT: In Easy 3 Step-by-Step Guide
2.How to Use ChatGPT to Create a Resume based on the Job Description
Looking for a cover letter that is tailored to the exact job you're applying for? ChatGPT has got you covered! This allows you to simply copy and paste the job description into our system before requesting your cover letter. This is by far the most efficient way to get your cover letter written in a way that reflects the specific role and duties you'll be performing.
Additionally, you can include details about your own personal experience and qualifications to make your cover letter stand out. Here's an example prompt you could use:
Prompts:
"Create a captivating cover letter for the position of [role title] at [employer], using this job description: XYZ. For context, I have [include experience you'd like to highlight]."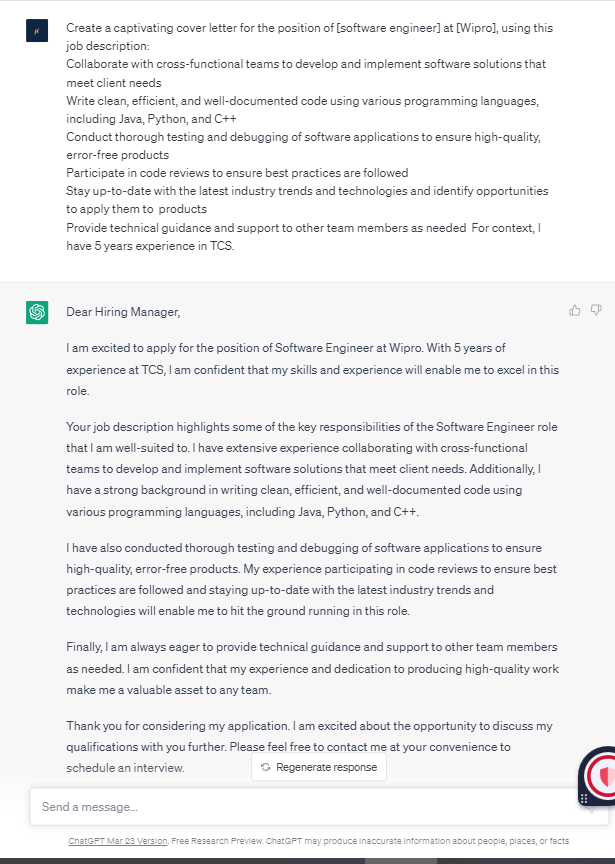 With It's advanced technology and expert writers, you can be confident that your cover letter will be polished, professional, and perfectly tailored to your needs. Don't waste your time struggling to write a cover letter on your own – let ChatGPT do the heavy lifting for you!
ALSO How to Craft Engaging and Effective ChatGPT Prompts In 6 Easy Steps 
3.Tips for Editing Your Cover Letter
Customizing your cover letter has never been easier! If you want to make any adjustments to the letter that ChatGPT has generated for you, just let it know what specific aspect you want to tweak.
Whether it's highlighting a specific skill or experience, or emphasizing your passion for the role, ChatGPT can make those changes for you with just a simple request. For example, using the prompt mentioned earlier, you can ask ChatGPT,
Prompts:
"Can you make my passion for coding stand out more in the cover letter?"
In conclusion, ChatGPT is a powerful tool for anyone looking to streamline their cover letter writing process. With its advanced capabilities and flexibility, ChatGPT can help you create a polished and personalized cover letter in no time.
ALSO ChatGPT now has internet access through plugins! Learn more about how we're expanding our capabilities."
By providing specific prompts and directions, you can ensure that your cover letter highlights the experiences and qualifications that make you the perfect candidate for the job.
And if you need any tweaks, ChatGPT is always ready to assist. So why not give ChatGPT a try and take your cover letter writing to the next level?
FAQs
1.What to Include in a Cover Letter to Impress Employers
To stand out among the pool of job applicants, your cover letter should showcase your unique qualities and qualifications. It's essential to highlight what drives your interest in the role and what specific experiences make you a perfect candidate. With ChatGPT's advanced capabilities, you can easily create a tailored cover letter that truly reflects who you are as a professional.
2.The Advantages of Using ChatGPT for Your Cover Letter
With ChatGPT, you can obtain a remarkable cover letter in mere seconds, freeing up more time for you to concentrate on other areas of your application that demand more attention and dedication. After ChatGPT generates your letter, you have the option to incorporate your own modifications to make it uniquely yours.
With ChatGPT by your side, you can effortlessly and efficiently create a cover letter that stands out from the crowd.
3.How Cover Letters Can Boost Your Job Application
A well-crafted cover letter can make all the difference in your job application process, even if it's not a requirement. It's an opportunity for you to showcase your personality and demonstrate your interest in the position, setting you apart from other candidates. Whether the employer mandates it or gives you the option, including a cover letter can give you the edge you need to secure your dream job. So why not take advantage of this chance to impress your future employer and show them why you're the perfect fit for the job?