Microsoft's AI The New Bing Image Creator is readily accessible for free, with no waitlist, and without the need to utilize Edge. To begin using it, familiarize yourself with the following details.
The world of generative AI tools has exploded into the mainstream, and it all began with the mind-blowing launch of ChatGPT from OpenAI. This conversational AI chatbot has wowed users with its natural tone, ease of accessibility, and sheer usefulness. Not to be outdone, Google and Microsoft have released their own AI chatbots – Bard and Bing Chat, respectively. While the AI craze has sparked security, ethical, and economic concerns, Microsoft has upped the ante by releasing an advanced version of OpenAI's DALL-E 2 – the AI image creator within Bing.
ALSO Use ChatGPT as a Siri Shortcut on iPhone or iPad: A Guide in 4 Easy steps
Accessing the DALL-E 2 image generator through Bing Image Creator is simple and free. All you have to do is log into OpenAI's website, enter a prompt in a text area, and watch in amazement as it creates a remarkable image using artificial intelligence. But that's not all. Bing Image Creator boasts key differences from the original DALL-E 2, making it an exciting new tool to explore.
ALSO How to Design Your App using ChatGPT: In Easy 3 Step-by-Step Guide
So, let's dive right into learning how to use the Bing Image Creator – a cutting-edge tool that will revolutionize the way you approach image creation.
How to Get Started the new Bing Image Creator
1.Access the Bing Image Creator and Sign In
The ultimate AI image generator from Microsoft! Unlike Bing Chat, you don't need to use Microsoft Edge to access this cutting-edge tool. Simply head over to Bing.com/Create, and with just one click on Join & Create, you can log into your Microsoft account to access the image generator.
It's that simple! With Bing Image Creator, you have the power to create unique and eye-catching visuals in no time.
ALSO ChatGPT: How To Write Cover Letters within 3 Easy Steps
2. Type or Put your prompt
Simply enter a detailed description of the image you want to create in the text area, just like you would with an AI chatbot. The more detailed your prompt, the more accurate your results will be. For example:
Prompt:
Create an Image of a whose eyes are blue colour, brown hair) reading a novel in her royal blue colour wall printed room with silk white curtains, sitting on a golden colour relaxed chair, and a side table with a white lamp on this.
or
Create an Image of wolf surrounded by snow and trees standing on top of the mountain looking at the moon.
Once you've entered your prompt, it's time to hit the Create button and watch the magic happen. Within seconds, Bing Image Creator will generate a stunning visual representation of your prompt, utilizing the latest advancements in artificial intelligence technology.
ALSO  100 Useful Excel ChatGPT Prompts to 100x Your Excel Skills
3. See your results
While AI image generators have come a long way, there's still room for improvement. The free tools available may not always be advanced enough to create images that are completely true-to-life. So, it's possible that you may notice minor errors in details such as the positioning of a person's fingers or eyes, or the appearance of the keys on a computer, for instance.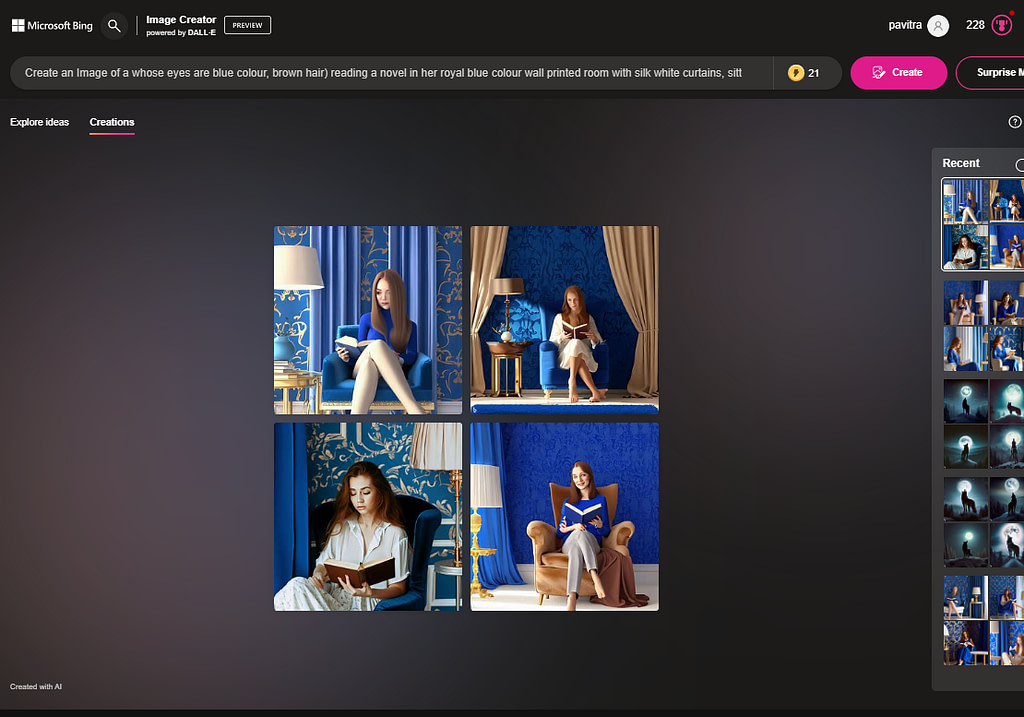 But don't let that discourage you! With Bing Image Creator, you can still achieve breathtaking visuals that perfectly match your creative vision. While the generated images may not include every detail that you specify in your prompt, they are sure to impress with their beauty and uniqueness.
ALSO 120+ Best ChatGPT Prompts To Boost Linkedin Engagement
4. At Least Download your images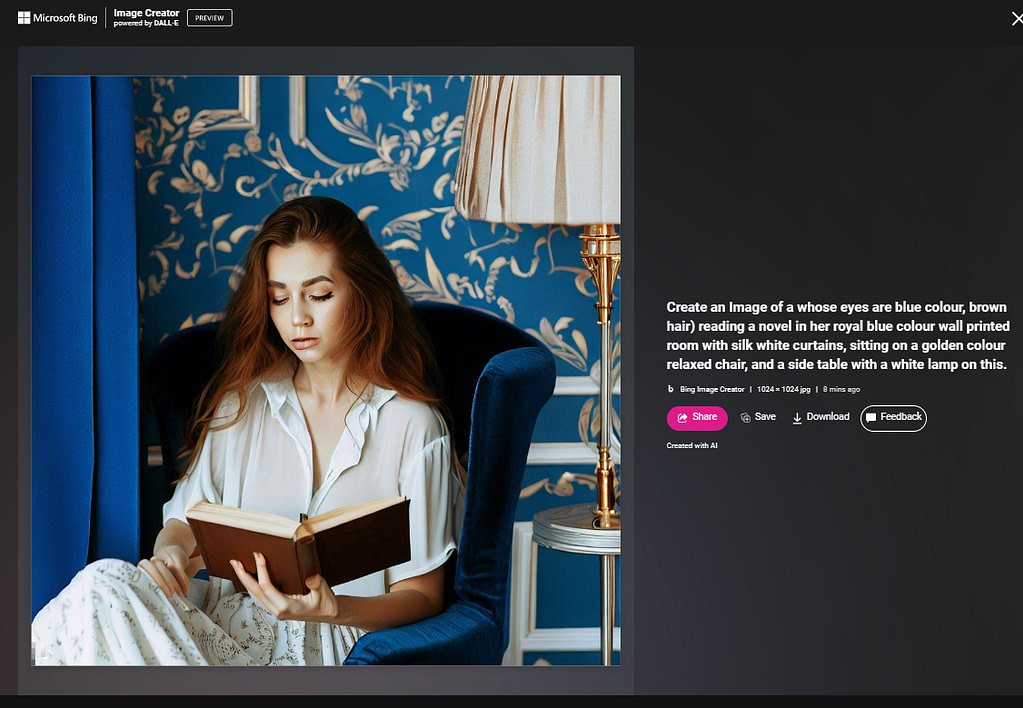 Feast your eyes on the stunning visuals generated by Bing Image Creator! As you browse through the images, you can simply click on any image to expand it and explore the available options. Whether you want to share it with your friends, save it to your account, download it to your device, or provide feedback to Bing, the choice is yours.