Are you tired of waiting for OpenAI to grant you access to their latest and greatest language model, GPT-4? Do you yearn to experience the wonders of generating text and images with a single click? Look no further!
| AI Tool | Description | Features | Pricing |
| --- | --- | --- | --- |
| Bing | Microsoft's search engine that uses AI for better search results | Smart search suggestions, image and video search, voice search, personalized results, translator, news, maps | Free |
| Hugging Face | AI company that provides open-source tools for natural language processing | Access to pre-trained models, fine-tuning, deployment, inference | Free / Paid |
| Ora.sh | AI-powered writing assistant that helps users improve their writing skills | Grammar and style suggestions, word choice recommendations, sentence structure analysis | Free / Paid |
| nat.dev | Web app that allows users to experiment with GPT-4 and other models for free | Access to GPT-4 and other models, customizable settings | Free |
| Poe.com | AI-powered writing assistant that provides users with access to GPT-4 and Claude+ for improved writing skills | Access to GPT-4 and Claude+, customizable settings | Free / $9.99 |
| Merlin | AI-powered tool that provides the power of ChatGPT Plus on any website | Summarization, content generation, writing assistance | Free / Paid |
| AI Dungeon | Text-based game that uses AI to generate a fantasy simulation game with infinite possibilities | GPT-powered game generation, free to use | Free |
Table of all seven ai tools/FDM
ALSO The Secret Trick to Unlock GPT-4 Without Waiting
In this article, I'll unveil Seven free ways to get immediate access to GPT-4. No tedious forms, expensive fees, or social media pleading necessary. Simply follow these straightforward steps, and you'll soon be reveling in the power and potential of GPT-4. Get ready to impress your friends, colleagues, and even enemies with your witty and insightful responses.
Discovering GPT-4: The Revolutionary Language Model You Need Now
OpenAI has just launched GPT-4, the latest and most advanced installment of their multimodal large language models. This game-changing model is already causing a stir in the tech world and is available for ChatGPT Plus users via API. Microsoft even confirmed that Bing had been utilizing GPT-4 before its official release – talk about groundbreaking!
What makes GPT-4 so impressive is its ability to handle both text and image inputs and produce incredible text outputs. Although it may not match up to human capabilities in real-world scenarios, GPT-4 has already shown to have human-level performance on numerous academic and professional benchmarks.
ALSO OpenAI GPT-4: Explore the Multimodal Capabilities, Exciting New Features, Image Input Integration, and How to Use GPT-4 for Maximum Results!"
But wait, there's more! GPT-4 has even passed a simulated bar exam with a score that surpasses that of GPT-3.5. So, if you're looking to elevate your language technology game to the next level, GPT-4 is the ultimate tool for you. This model is more imaginative, dependable, and adept at handling complex instructions than its predecessor.
so, Here are 7 effective and free ways to use GPT-4 :
1.Bing
Here are the steps to use ChatGPT 4 for free on Bing:
Go to bing.com/new, the new Bing search engine by Microsoft.
Click on the join button to apply to be on Bing's waitlist.
Approval is usually instant, so wait a moment and check your status.
Once approved, scroll down the page and click on the example search results.
Type a search query in the ChatGPT-4 prompt format and hit enter.
View the complementary GPT-4 prompt results in the sidebar.
If you use Microsoft Edge, you can simply click on the "Chat" button in the top-left corner of bing.com/new.
If you use other browsers, you'll need to install the Bing Chat for All Browsers extension.
2.Huggingface.co
Hugging Face is a data science platform that offers tools for creating, training, and deploying machine learning models using open source technologies.
The Hugging Face Hub is a platform that enables users to share pre-trained models, datasets, and machine learning project demos. It includes collaborative features like discussions and pull requests, similar to those found on GitHub.
To use HuggingFace, you need to install the HuggingFace library.
The installation process depends on your backend setup (Pytorch or Tensorflow).
Once installed, you can use pre-trained models and tokenizers provided by HuggingFace.
You can also create your own models using HuggingFace.
Resources available for getting started with HuggingFace include a beginner's guide video and documentation on managing repositories.
There are also video tutorials available demonstrating how to use transformer models from a local machine and Hugging Face.
To access a variety of language models, including ChatGPT-4, you can go to the "Models" tab located on the top menu bar of HuggingFace.
3.Ora.sh
Ora.sh is a web-based platform that lets you create LLM apps using a chat interface that can be shared easily. You can utilize ChatGPT 4 on Ora.sh without any message restrictions for free.
To use ChatGPT-4 on Ora.sh, users need to launch Ora.sh using the link https://ora.sh/openai/gpt4 and create an account by logging in with their email.
Once logged in, users can create a custom chatbot, such as a real ChatGPT-4 model that answers queries.
There are no message limits or waiting times on Ora.sh.
Other resources for using ChatGPT-4 for free include Medium, Aalpha Tips, Beebom, LinkedIn, and GeekChamp.
4.nat.dev
Nat.dev is a web application created by Nat Friedman that offers a playground for experimenting with machine learning models for free, including GPT-4. To get started with ChatGPT-4 on nat.dev.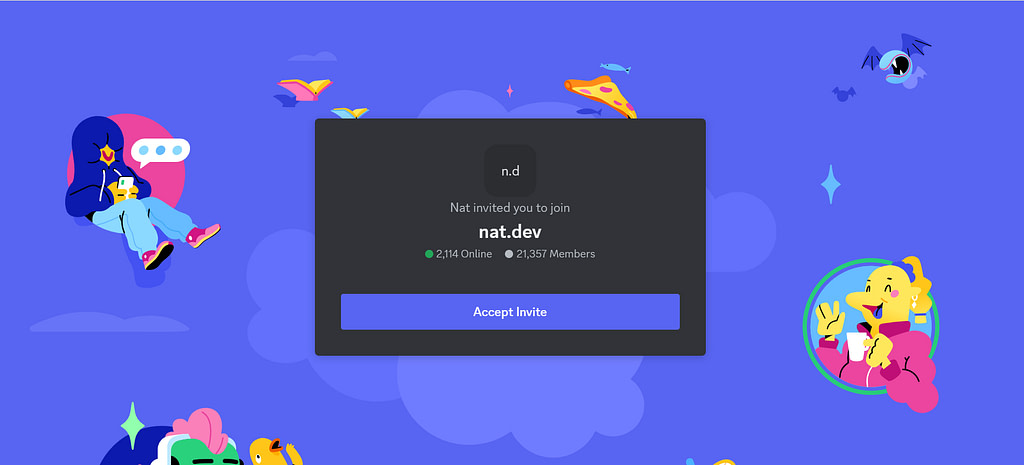 To use GPT-4 for free, users can utilize a web app called nat.dev created by Nat Friedman.
The app provides users with the ability to experiment with various models at no cost.
Users need to sign up for a free account on the nat.dev website and log in.
Once logged in, users can navigate to the "Model" section located in the right panel of the web app.
In the "Model" section, users can select "gpt-4" to access the GPT-4 model.
Although users can customize other settings, it's recommended to leave them as default initially.
5.Poe.com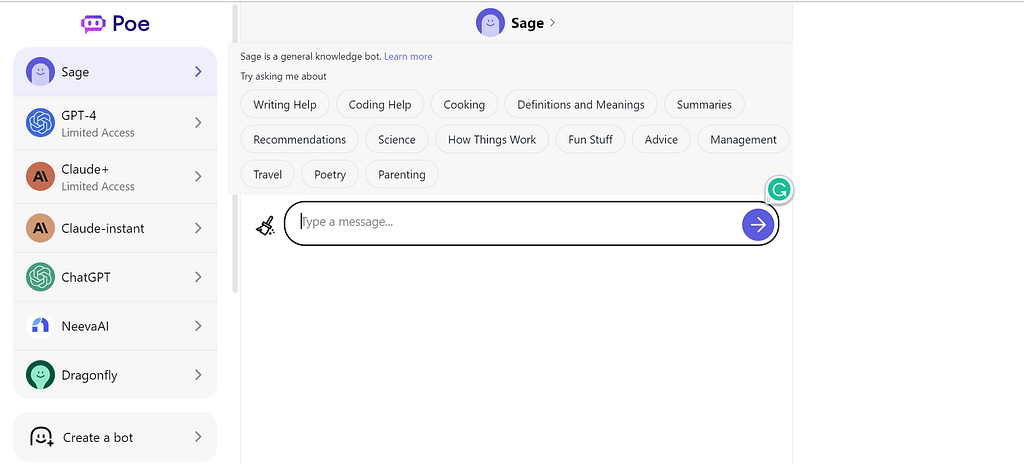 To use Chat GPT-4 on the Poe site, users can simply click the GPT-4 button on Poe's homepage.
To use ChatGPT-4 on the Poe site, users need to visit Poe's homepage.
Once there, users should click on the "GPT-4" button to start using the tool.
Poe provides a free tier for users to access GPT-4, but there is also a paid tier available for $9.99 per month.
With the paid tier, users can not only access GPT-4 but also Claude+, another language model.
Poe's interface allows users to input prompts and receive responses from GPT-4, making it a useful tool for generating text for various purposes.
Users can experiment with different prompts and settings to see what kind of output they can generate from the GPT-4 model.
6.Merlin
Merlin is a free tool that gives users access to ChatGPT Plus on various websites. It offers several features like: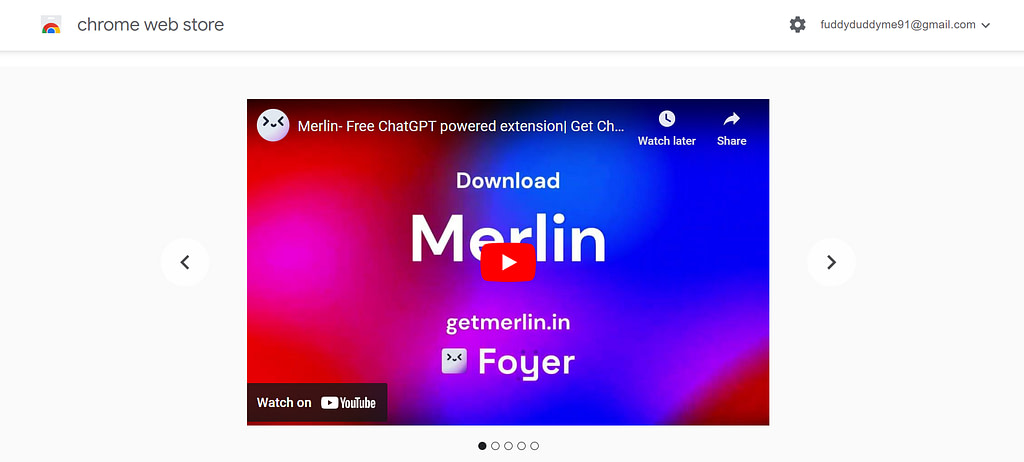 | Tool Name | Merlin |
| --- | --- |
| Function | Allows users to use ChatGPT Plus on favorite websites |
| Target Audience | Content creators and writers |
| Features | |
Merlin/FDM
Summarizes any website
Writes blog posts, product descriptions, book and movie summaries, news articles, essays, and research papers
User-friendly interface and intuitive features | | Benefits |
Saves time and effort
Improves writing skills
Easy to use for all skill levels |
7.Aidungeon.io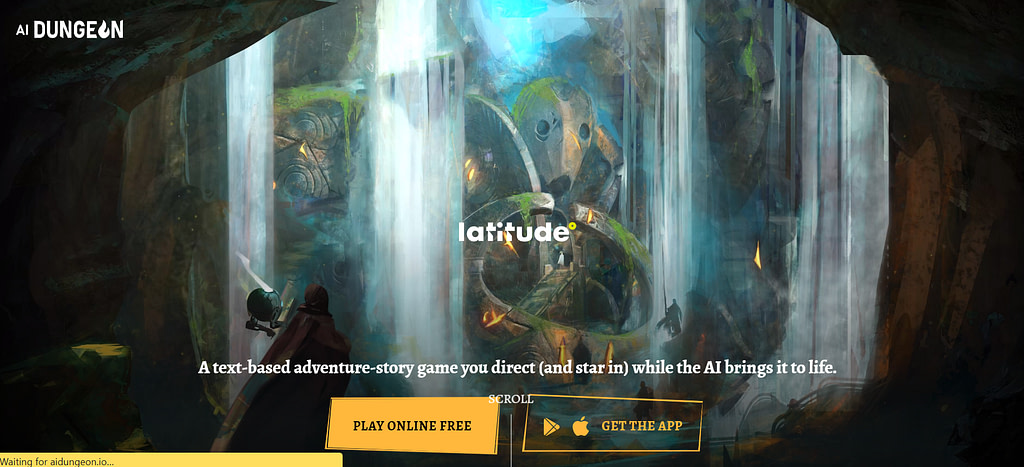 This exciting game uses AI to create a fantasy simulation game that's completely unique every time you play. With its text-based format, you can type in your actions and watch as the AI responds in real-time, taking the story in completely new directions. Best of all, you can use GPT for free on the website, allowing you to access even more powerful and exciting gameplay.
Whether you're a seasoned gamer or just looking for a fun way to spend an afternoon, AI Dungeon is the perfect choice for anyone who loves immersive storytelling and endless adventure.
ALSO How to use ChatGPT on WhatsApp using BuddyGPT,WizAI,Jinni AI,Shmooz AI