AI video generators offer an exciting and accessible way to produce top-quality videos that captivate audiences and boost engagement.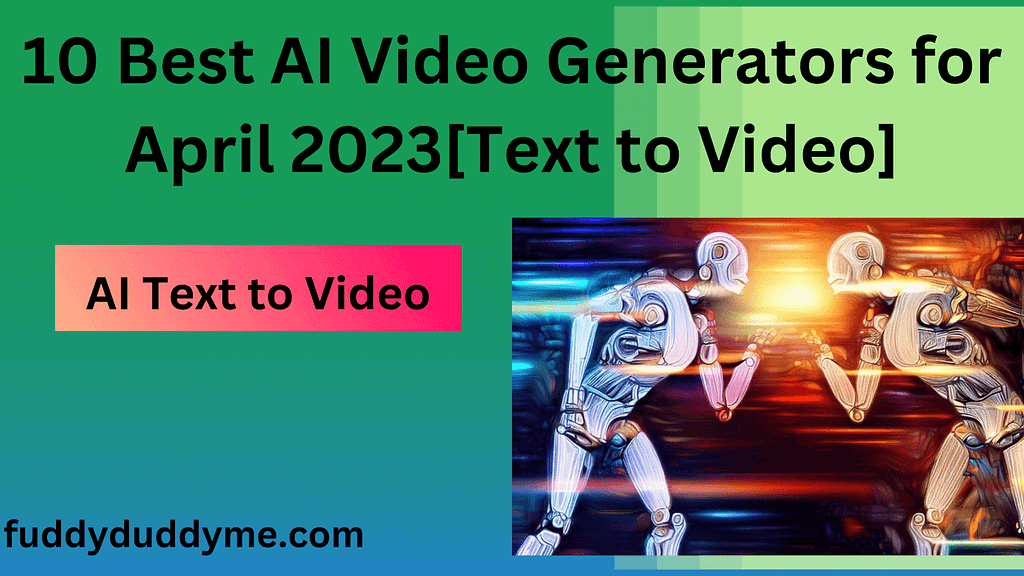 Businesses and content creators must prioritize video content to stay ahead in today's visually-driven world. Studies show that over 80% of online traffic comprises video content, which is rapidly becoming the preferred format over text and images.
Social media platforms remain the primary means for online publishers to reach audiences, and video content has proven to generate more organic reach than other types of content.
However, creating and distributing high-quality video content has always been an expensive and time-consuming process – until now.
Thanks to artificial intelligence (AI), generating video content has never been easier or more accessible. With a vast array of AI video generators available, businesses and content creators can create captivating videos in no time.
ALSO Top 5 AI Image to Image Generator for Stunning Image Creation
Top AI Video Generators of 2023: Enhance Your Video Content with Cutting-Edge Technology
1.Pictory
The Ultimate AI Video Generator for Creating High-Quality Videos without Design Experience
Pictory is a powerful AI video generator that lets you easily create and edit high-quality videos in just minutes.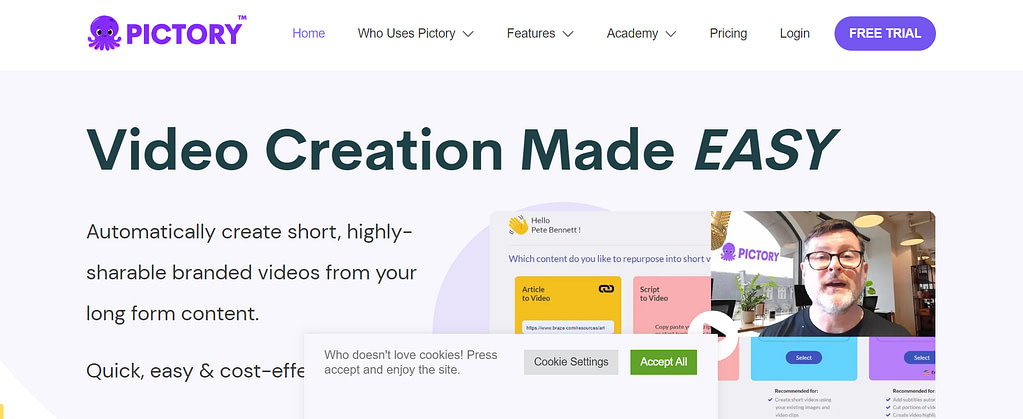 Here are some of the key features of Pictory:
AI-generated videos based on articles or scripts
Text-based video editing
Shareable video highlight reels
Automatic video captioning and summarization
Simply provide Pictory with your script or article, and watch as it transforms your content into engaging video content that you can use to grow your brand and increase engagement. With Pictory, it's easy to turn your blog posts into stunning videos for your social media or website. Plus, since it's cloud-based, it works on any computer.
Editing videos has never been simpler than with Pictory's easy-to-use text-based editing tools. Whether you're editing webinars, podcasts, or Zoom recordings, Pictory makes it a breeze to achieve professional results.
ALSO 10 Best ChatGPT Alternatives of 2023
Create shareable video highlight reels in seconds with Pictory. It's a fantastic way to create trailers or share short clips on social media, and it's incredibly easy to do.
Pictory also automatically captions your videos and summarizes long videos, saving you valuable time and effort.
Revolutionize your video content creation with Pictory – the ultimate AI video generator that helps you stand out from the competition!
2.Synthesia
Synthesia is an exceptional AI video generator platform that can create videos with AI avatars in a jiffy. The tool boasts over 60 languages, a plethora of templates, a screen recorder, a media library, and more. No wonder it's trusted by big names like Nike, Google, BBC, and Reuters.
Here are the features of Synthesia at a glance:
70+ AI avatars
65+ languages
A vast collection of video templates
Free media library.
The best part of Synthesia is that you can make videos without any complex equipment or filming locations. Choose from 70+ diverse AI avatars, including an exclusive one for your brand. You can even create your avatar from scratch.
Synthesia's AI voice generation platform enables you to produce consistent and professional voiceovers, which can be easily edited with a single click. The voiceovers also come with closed captions.
ALSO How To Use ChatGPT as a Siri Shortcut on iPhone or iPad: A Guide in 4 Easy steps
Once you have an avatar and voiceover, create quality videos in minutes with more than 50 pre-designed templates. You can even upload your brand identity assets and get custom-made templates.
3.Deepbrain
Deepbrain is a revolutionary AI tool that allows you to create stunning videos with just a few simple steps. You can generate AI-generated videos using basic text quickly and easily. With the Text-to-Speech feature, you can receive your first AI video in a few minutes!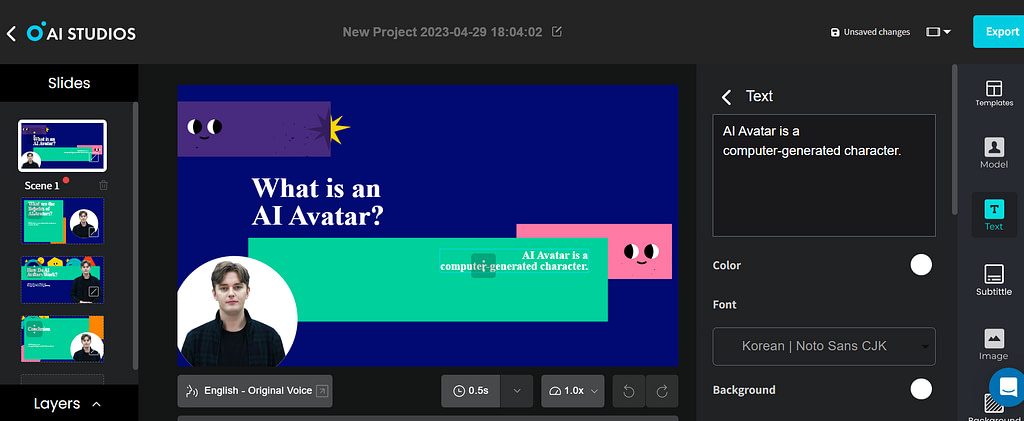 Here are the three simple steps to get started:
Create a new project and select your preferred PPT template.
Enter your script by typing or copying and pasting it. Your uploaded PPT content will be entered automatically.
Choose the appropriate language and AI model, edit the video to your liking, and export the final product.
The benefits of using Deepbrain are numerous:
Easily find a custom-made AI avatar that perfectly suits your brand.
The tool is user-friendly and intuitive, making it easy to use even for beginners.
Save significant time in video preparation, filming, and editing.
Reduce costs in the entire video production process.
4.Synthesys
Synthesys is the top AI video generator that revolutionizes the creation of video content. With its proprietary Text-to-Video technology, Synthesys allows you to easily convert your script into dynamic media presentations such as product tutorials and explainer videos within minutes.

Here are the main features of Synthesys at a glance:
74 real Humatars
66+ languages and 254 unique styles
Lip-syncing AI video technology
Easy-to-use interface
High-resolution output
Synthesys offers a wide range of features, including lip-syncing AI video technology, which eliminates the need for cameras or film crews. You can choose from over 74 real Humatars, and the tool's voicebank includes 254 unique styles, allowing for full customization of your videos.
The tool is available in 66+ languages, and its intuitive interface makes editing and rendering a breeze. Additionally, the high-resolution output ensures that your videos are of the highest quality.
ALSO How To Use Bing Image Creator in 4 easy steps
Synthesys is ideal for creating content for eLearning, social media, product descriptions, and explainer videos.
5.InVideo

InVideo is a user-friendly AI video generator that can help anyone create high-quality marketing and explainer videos without any prior video editing experience.
Here are some of the key features of InVideo:
No prior video creation experience required
Quickly turn input text into engaging video content
Wide selection of professionally designed templates
Easily share videos to popular social media platforms
With the ability to turn input text into engaging video content in just a few minutes, InVideo offers a wide range of professionally designed and animated templates to choose from.
To get started with InVideo, simply input your text, select a template, and customize it to your liking. You can then download the finished video and share it on popular social media platforms such as Facebook, Instagram, and YouTube. InVideo is a popular choice for developing promo videos, video testimonials, presentations, slideshows, and memes
6.Synths Video
Synths Video is a cutting-edge AI tool that allows you to transform your blog posts into captivating videos that can engage your audience like never before. With over 40 different human avatars to choose from, you can find the perfect match for your brand.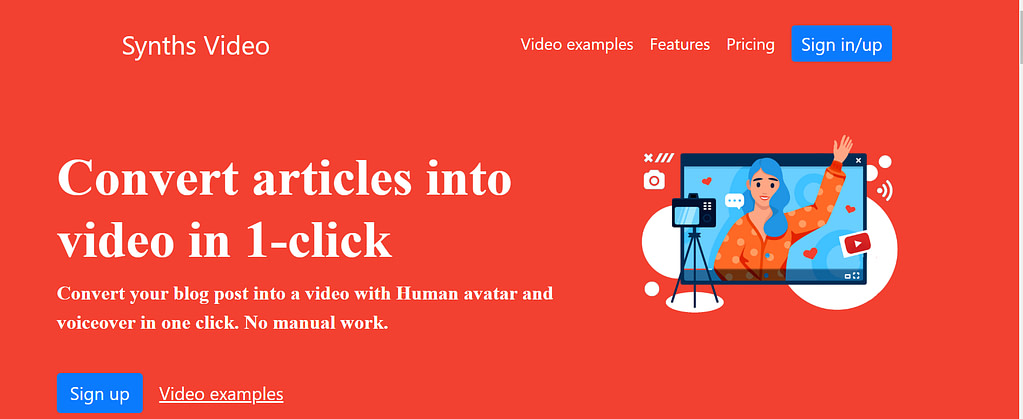 Some of the key features of Synths Video include:
Automated video creation process
Over 40 human avatars to choose from
Natural-looking lip movements that are synchronized with your text
Ideal for transforming blog posts into videos that can be shared on various platforms
The platform uses advanced AI technology to create natural-looking lip movements that are synchronized with the words in your text. The entire process is automated, which means you don't need any video editing experience to get started.
ALSO 100+ ChatGPT Prompts for Teachers:Boost Classroom Success
To create a video, all you need to do is upload your blog post to the platform and let Synths Video work its magic. In just a matter of minutes, you'll have a high-quality video that you can upload directly to platforms like YouTube.
7.Elai.io
Elai.io is a powerful AI video generator that allows you to easily create professional video content from text. With its intuitive interface and vast library of templates, you can quickly generate compelling training and marketing videos without any prior experience in video creation.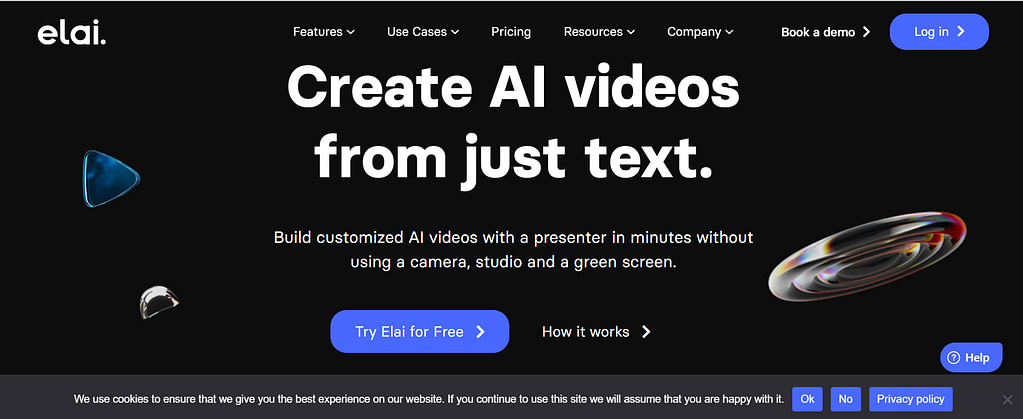 Some of the main features of Elai.io include:
Generate high-quality videos at scale
Create video content from blog posts or articles
Access over 60 languages and more than 25 avatars
Ideal for creating training and marketing videos
In just three clicks, you can transform a blog post or article into a high-quality video by copying and pasting the URL or HTML text, selecting a template from the library, reviewing the video, making any necessary changes, and rendering and downloading the final product.
ALSO Top Fitness Trackers of 2023 to Dominate Your Workouts
Elai.io offers over 60 languages and more than 25 avatars to choose from, including the option to request a personal avatar. Whether you're creating training videos or marketing materials, Elai.io can help you generate videos at scale that effectively engage your audience.
8.Veed.io
Veed.io is an intuitive and user-friendly AI video generator that enables anyone with basic computer skills to create high-quality videos quickly. The platform offers a wide range of customizable features such as text, fonts, colors, music, and themes. It also provides an auto-transcription feature, which makes it easy to transcribe your video files with just one click.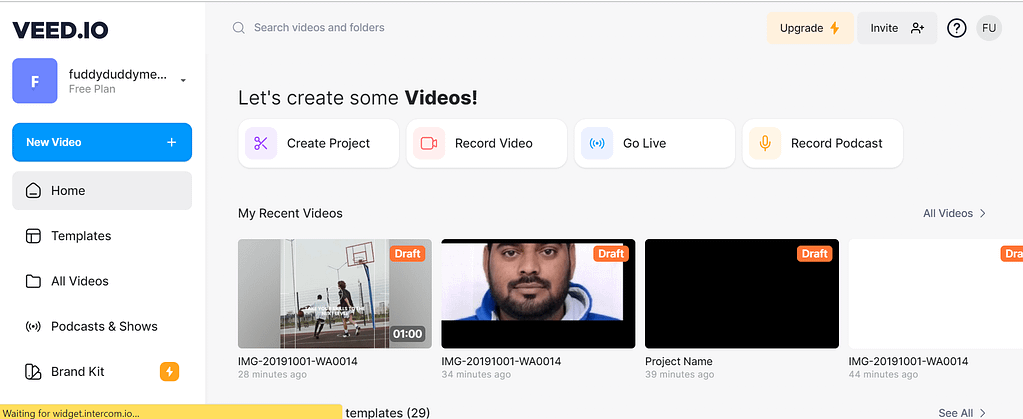 Here are some of the top features of Veed.io :
Customize text, fonts, colors, music, and more to create unique videos
Choose from different themes to convey specific messages
Use the auto-transcription feature to quickly transcribe your videos
No prior video editing experience required to use the platform
With Veed.io, you can easily create videos for social media and other platforms without requiring any prior video editing experience. The free video editing app allows you to work on your content directly in your browser, with no software download required.
9.ModelScope
ModelScope, a text-to-video generator developed by one of Alibaba's divisions, has gained attention for its bizarre and meme-worthy output.
Although the model is not considered revolutionary compared to newer models, the videos it creates have captured the imagination of users, with Will Smith eating noodles being a popular example.
ALSO The Best Laptops of 2023:Top Rated
Users have even attempted to create full storylines by compiling multiple two-second snippets into a single film, with voice-overs and other creative elements. Some of the most interesting examples have been compiled for viewing.
10.Stable Diffusion Videos
Stable Diffusion Videos: A Free Online AI Tool to Make Videos from Text Prompts
Stable Diffusion Videos is a powerful and free online tool that leverages AI technology to convert text prompts into engaging and high-quality videos. The platform uses advanced AI algorithms to create stunning video content that can be used for various purposes, including marketing, training, and educational purposes.
The platform offers a range of video examples that showcase its capabilities. These videos demonstrate the platform's ability to generate dynamic and engaging visuals that can capture the attention of your audience.
With Stable Diffusion Videos, users can easily create videos by entering text prompts and customizing the visuals, including text styles, colors, and backgrounds. The platform uses advanced AI technology to create videos quickly and efficiently, without requiring any prior video editing experience.
ALSO How to Use ChatGPT Opponent "Claude" Right Now
Stable Diffusion Videos is an ideal tool for marketers, educators, and content creators looking to create engaging video content quickly and efficiently. The platform is free to use, making it an accessible option for businesses and individuals of all sizes.
In conclusion, Stable Diffusion Videos is a powerful tool that can help you create engaging and high-quality videos from text prompts. With its user-friendly interface and advanced AI technology, the platform is an excellent choice for anyone looking to create video content quickly and easily.