Midjourney Pricing: If you have been awed by the incredible AI-generated images out there, you may be curious to know the pricing of Midjourney. Let me help you with that:
Midjourney offers a range of plans to fit your needs, with prices ranging from just $10 to $60 per month. Plus, take advantage of free trial, which lets you explore 25 image generations for absolutely no cost.

As of April 2023, Midjourney's Free Trial offer is currently unavailable due to combination of extraordinary demand and trial abuse until next improvement to the system deployed.
ALSO 100+ Best Midjourney Prompts (High Resolution)
In this post, we'll delve into the cost of Midjourney's paid plans, the exciting benefits that come with them, and help you decide whether it's worth the investment.
Midjourney Pricing Per Month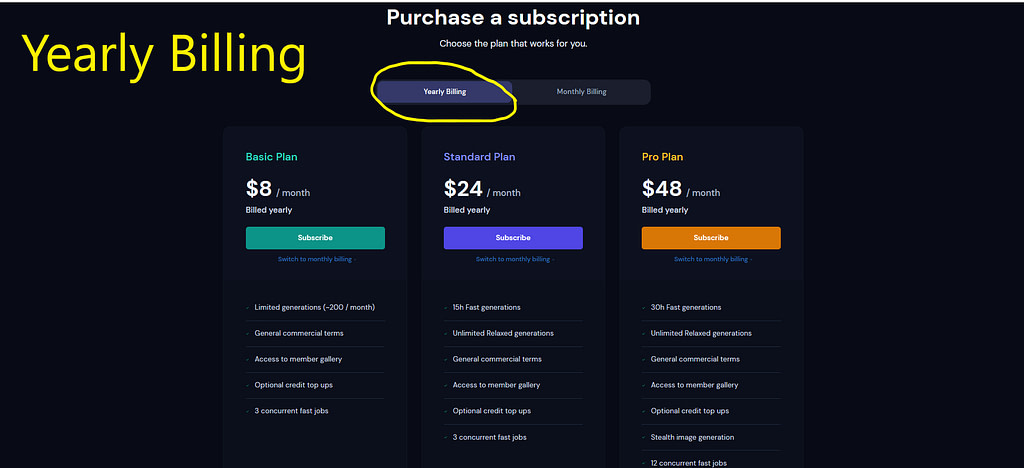 Midjourney has three paid plans that work for all skill levels, whether you're a hobbyist or an advanced user. This way, anyone can take full advantage of this innovative platform.
If you're a new user and want to keep the journey going beyond the free trial, we highly recommend the Basic Plan. For just $10 per month, you'll get 3.3 fast hours every month, with each hour capable of generating approximately 60 stunning images. That means the Basic Plan alone can generate up to 200 images before you need more hours!
If you've exhausted your Basic Plan, the Standard Plan is a must-see. For just $30 per month, you'll get access to 15 fast hours, plus the incredible Midjourney relax mode.
This mode lets you generate an unlimited number of images, with just a short wait for an available GPU (usually 0-10 minutes).
ALSO Top 5 AI Image to Image Generator for Stunning Image Creation
With the Pro Plan, you get even more fast hours and exclusive access to stealth mode.
Midjourney's exclusive stealth mode! This feature keeps your generated images completely hidden from the public community website, making it perfect for sensitive projects that require anonymity.
However, if you're just getting started with Midjourney, the Basic Plan is an excellent choice. At just $10 per month, it offers a fantastic introduction to the platform, with plenty of credits to experiment and explore its capabilities.
Midjourney's Affordable Price per Image
Value of Midjourney! At just 3 to 5 cents per image, the platform's affordable pricing means you can generate stunning visuals without breaking the bank.
For even higher quality images that require twice the fast hours, the cost is still only 6 to 10 cents per image. And with the addition of relax hours in the Standard and Pro plans, the cost per image drops to a fraction of a penny.
Don't forget to take advantage of the free trial, which provides $1.20 worth of fast hours for you to explore and experiment with.
Is Midjourney Unlimited or Limited?
Midjourney's paid plans provide access to unlimited image generation through relax mode, a feature that uses relax hours to offer unmetered access to the platform's image generation capabilities.
Relax mode allows you to place multiple prompts in a queue for Midjourney to process when computing resources become available, providing an excellent opportunity for experimentation.
ALSO How To Use Bing Image Creator in 4 easy steps
The Standard Plan offers unlimited image generations, making Midjourney a more cost-effective option than competitors such as Dall-E.
Can You Use Midjourney for Free Forever?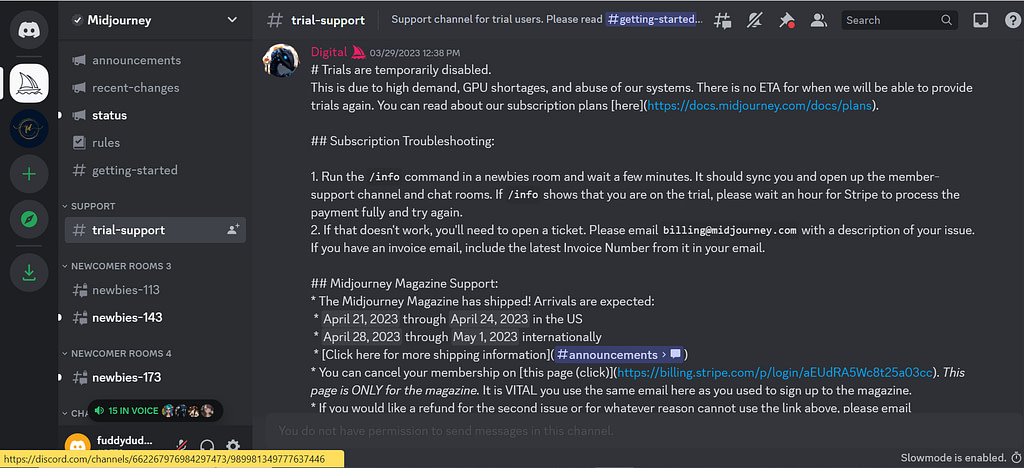 April 2023 Update:Currently, the Midjourney Free Trial is on hold.
There are a couple of ways to save money with the paid plans, and the best method for using Midjourney for free is to create a free trial account.
However, some users on Reddit have reported creating new trial accounts each time they exhaust their 25 free images.
ALSO 120+ Best ChatGPT Prompts To Boost Linkedin Engagement
Another method involves rating Midjourney images in Discord, which can earn you one free fast hour (about 60 image generations) every day if you rate the most images to the first 1000 users.
Keep in mind that you need to rate more than 50 images to be eligible for this reward, and as Midjourney becomes more popular, this figure will likely increase as well.
Midjourney's Alternatives:
While Midjourney is a powerful AI-powered image generation platform, there are other options available.
ALSO 150+ AI Image Prompts on Bing's Image Creator to Boost Your Creativity
Some popular alternatives to Midjourney such as Stable Diffusion models, DeepAI, DALL-E, Bing Image Creator and Artbreeder, to discover their distinct features and pricing plans.
While Midjourney is a remarkable option, these alternatives offer different options and benefits, so make sure to conduct thorough research to determine which platform suits your requirements best.

The Value of Midjourney: Is It Worth the Cost?
Midjourney is a game-changer in the world of AI-powered image generation, offering users an unparalleled experience that is both accessible and user-friendly. With its ability to generate polished images without requiring complex prompts or model training, Midjourney stands out from its competitors.
ALSO OpenAI GPT-4: Explore the Multimodal Capabilities, Exciting New Features, Image Input Integration, and How to Use GPT-4 for Maximum Results!"
In terms of value, the paid plans are a steal, allowing users to generate virtually anything within the bounds of their imagination, with the exception of NSFW content. We recommend taking advantage of the free trial and considering a Basic plan based on your usage. With its impressive results and ease of use, Midjourney is more than worth the cost.
Creating Stunning Images with Midjourney, Even Without Discord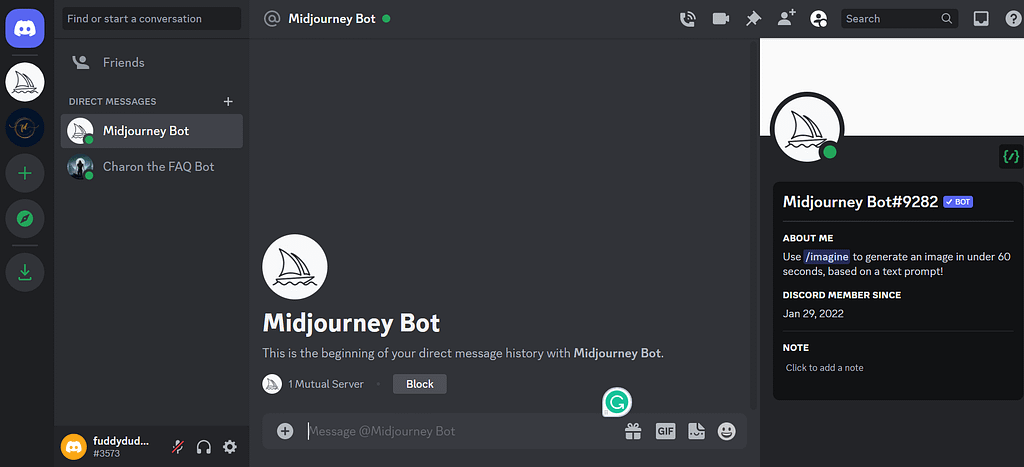 Experience the power of Midjourney without needing a Discord account. Start generating stunning AI-powered images by simply starting a direct message with the Midjourney bot. This exclusive feature allows you to enjoy the benefits of Midjourney without distractions from other users.
Although Midjourney currently requires a Discord account, there are future plans to offer API access like other leading AI companies such as OpenAI.
ALSO 10 Best ChatGPT Alternatives of 2023
At Approachable AI, we are constantly monitoring any updates that can make the Midjourney platform more accessible and user-friendly for non-technical users.
Midjourney: Accessible AI Image Generation for Everyone
Midjourney – an AI-powered image generation platform that is open to anyone aged 13 and above!
While Midjourney maintains a simple code of conduct, it is important to note that Discord is an open platform, and you may come across offensive content or users.
But don't worry, we've got you covered – you can use Midjourney exclusively through direct messaging with the Midjourney bot to avoid such encounters.