You can now try out Google's AI chatbot, Bard, without the need for a waitlist. To help you get started, here is a complete guide on how to use it.

Google Bard, an AI chatbot designed to assist users in generating text for various purposes, has been making waves in the tech industry.
With its impressive capabilities to create content ranging from cover letters to computer codes and translations, Bard has garnered attention for its innovative features.
However, Bard's performance has received criticism due to its inaccurate responses and inability to follow conversations properly.
Despite this, Bard possesses a unique advantage over other AI chatbots as it can access Google's search engine, making it a formidable competitor to Microsoft's Bing Chat, which utilizes OpenAI's advanced language model, GPT-4, and has access to the entire web.
ALSO Google Bard in India: Check How to Join Waitlist
If you're looking to try out Bard for yourself, there's no longer a waitlist to get started. With its AI-powered conversational abilities, Bard can assist you in generating high-quality content, no matter the purpose.
Why You Use Google Brad?
Unleash Your Creativity with Google Bard AI: Brainstorm, Summarize, and Draft with Ease
Google's AI chatbot, Bard, is a versatile tool that can help you unlock your creativity and bring your ideas to life. With Bard, you can easily brainstorm new ideas, develop plans, and find innovative ways to tackle challenges.
Additionally, you can quickly get a clear and concise summary of complex topics that may be confusing or difficult to understand.
One of Bard's most powerful features is its ability to generate first drafts of various types of content, including emails, blog posts, outlines, and even poetry.
Simply start by writing your prompts in the chat window, and Bard will respond with human-like conversational responses that can help move your writing forward.
Whether you're a student, entrepreneur, or creative professional, Bard can be an indispensable tool for achieving your goals.
ALSO AI Chatbot In 5 Steps: How to Use ChatGPT API to Train It
What you need to Use Google Brad?
To access Bard, you'll need a personal Google Account or a Google Workspace account that has been enabled by your administrator.
Keep in mind that accounts managed by Family Link or designated as under 18 for Google Workspace for Education cannot access Bard.
If you're a Google Workspace administrator, you can enable access to Bard by following our guidelines.
Additionally, you must be 18 years old or over and have a supported browser, such as Chrome, Safari, Firefox, Opera, or Edgium. Please note that at the moment, Bard is only available in Japanese, Korean, and US English languages.
ALSO how to dominate Microsoft 365 with the coolest cat – Copilot, the smartest AI ever!
How to Get the Most Out of Google Bard: A Comprehensive Guide
1. Google Bard: Step-by-Step Guide to Logging In and Getting Started
If you're eager to begin using Google's latest chatbot, the first step is to visit the Bard homepage by navigating to Bard.Google.com and signing in with your Google account credentials.
From there, you can begin exploring the various features and benefits of this innovative AI-powered tool.
ALSO ChatGPT: How does it work? in 8 easy steps.
2.Get Familiar with the Bard Chat Window: A Complete Guide to Navigating and Utilizing its Features
Once you log into Bard AI, you'll be greeted by a user-friendly chat window that's easy to navigate. To help you get started, we've broken down the main features of the Bard chat window for you:
Reset Chat: Located at the top of the Main Menu on the left side of the window, this option will clear your current conversation and start a new one.
Bard Activity: While your conversations with Bard AI aren't saved, your prompts are. By clicking on Bard Activity on the left, you can access a new tab with your prompt history.
FAQ: If you have any questions beyond what we've covered in this article, the FAQ section on the left provides answers to Bard-specific queries.
Updates: This section lists the history of updates that have been made to Bard AI.
Help & Support: If you encounter any issues navigating Bard AI, click on Help & Support to reach Bard Help or send feedback.
Text Area: Type your questions or prompts at the bottom of the screen and hit enter or click Submit on the right to send them.
Microphone: Use the microphone feature within the text area to dictate your prompts to Bard AI.
Conversation: Your conversation with Bard AI will appear in the center of the chat window.
You can view other drafts for each response, give a thumbs up or down to provide feedback, refresh for a new answer, select and copy responses to your clipboard, and report them if needed.
Edit: Next to your prompt in the chat window, you'll see an Edit button, which allows you to refine your prompt for a new answer without rewriting it from scratch.
Account: Your Google account is accessible from the top-right corner of the window.
With these features in mind, you can easily navigate and use the Bard chat window to make the most of this innovative AI chatbot.
ALSO How to Use ChatGPT Opponent "Claude" Right Now
3.How to Start Writing Prompts for Google Bard AI Chatbot
Now that you have met all the requirements, you are all set to start utilizing Google's cutting-edge AI, Bard.
Simply type in your query in the text area and send it to the chatbot to receive its response.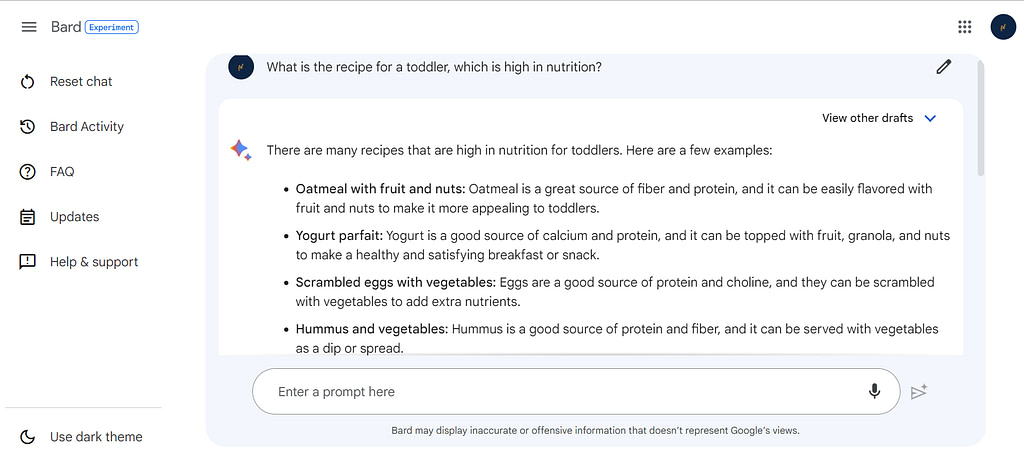 FAQs
1.Does Bard provide accurate and safe responses?
Bard's generative AI has the potential to revolutionize the way we think and create, but it's important to keep in mind that it's still in its experimental phase.
While Bard has undergone extensive testing to improve its accuracy, safety, and quality, some responses may still be inaccurate.
As a user, it's crucial to double-check information provided by Bard and provide feedback to help Bard improve.
Although Bard has safety controls and feedback mechanisms in place, it's possible that it may display offensive statements or incorrect information.
As exciting as the possibilities of Bard are, it's important to approach it with caution and an awareness of its experimental nature.
2.Can Google Bard assist with coding?
Bard AI is here to assist you with coding and related topics. However, it's important to note that Bard is still in the experimental phase, and as such, you are responsible for any code or coding explanations you receive.
It's crucial to exercise caution and thoroughly test and review all code for potential errors, bugs, and security vulnerabilities before relying on it.
Additionally, the code may be subject to an open source license, and Bard provides relevant information regarding it. You can learn more about Bard's citation practices for sources.
3.Deleting Data from Your Google Account: Is It Possible?
Easily manage and delete your Bard activity with this helpful link. You have full control over your data and can turn off saving your Bard activity or delete it anytime at myactivity.google.com/product/bard.
While Bard Activity is off, your conversations will still be saved briefly for feedback and service purposes. Don't worry, this activity won't appear in your Bard Activity.
ALSO Midjourney Pricing, Membership and Value Free or Paid [April 2023]