Kaiber ai is a revolutionary AI-powered storytelling platform, where your imagination becomes reality. AI generation engine offers you the tools to transform your ideas into visually stunning and original stories.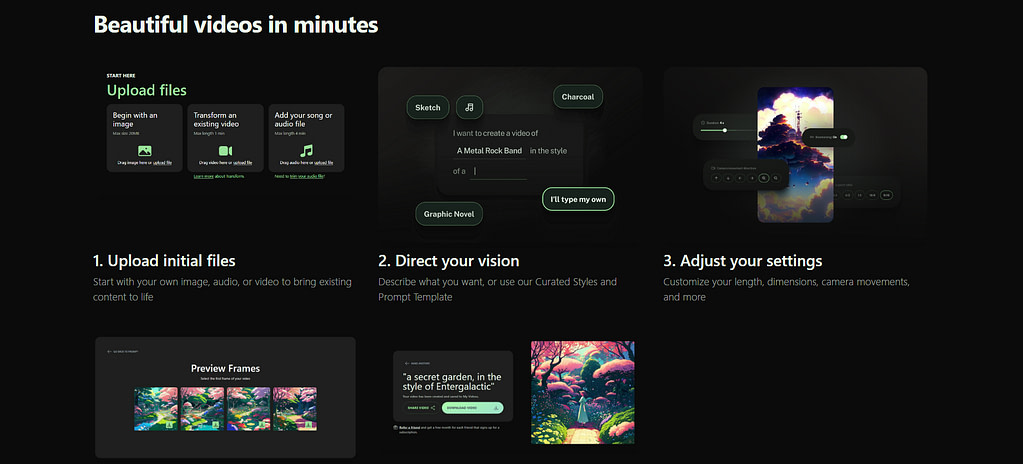 Kaiber AI, the revolutionary video generator powered by cutting-edge artificial intelligence. Unleash your creativity and imagination as you delve into a world of high-quality visuals and captivating storytelling.
No technical skills or prior experience required – Kaiber AI is designed to be fast, user-friendly, and an absolute thrill to use.
ALSO Midjourney Pricing, Membership and Value Free or Paid [April 2023]
For artists seeking inspiration, Kaiber AI is an endless wellspring of possibilities. Explore its vast repertoire of images and words, igniting your imagination and propelling your artistic vision to new heights.
Producers and content creators, rejoice! Kaiber AI offers an abundance of material that's bound to amplify your projects.
Whether you're looking to add an extra layer of depth to your videos or seeking that perfect visual flair, Kaiber AI has you covered. Elevate
Futurists, prepare to be amazed! Kaiber AI not only satisfies your thirst for fun but also fuels your curiosity for what lies ahead. With its constant evolution and addition of user-requested features, Kaiber AI ensures that you stay at the forefront of innovation.
Exciting news! In addition to its trend-setting feature that transforms images into mesmerizing video art, Kaiber AI has just unveiled a game-changing enhancement – easy video editing.
Now, you can effortlessly fine-tune your videos with a simple click, turning them into polished masterpieces. Unleash your inner director, shape your narratives, and captivate your audience with videos that reflect your unique vision.
What is Kaiber AI?
Kaiber AI, is the revolutionary text-to-video generator that unleashes the power of artificial intelligence to bring your ideas to life in stunning videos.
Prompt of created video: "a portrait of a main character, in the style of 3D, octane render, 8k, ray-tracing, blender, hyper-detailed"
Whether you're a marketer, educator, or content creator, Kaiber AI is your ultimate tool for crafting engaging and high-quality videos that captivate your audience.
Creating professional videos has never been easier! Simply provide us with your text description, and let Kaiber AI work its magic. Its advanced AI algorithms analyze your input and transform it into visually stunning video content that matches your vision flawlessly.
ALSO How To Craft Logo Design with MidJourney in 5 Easy Steps
Customization is at your fingertips with Kaiber AI. Enhance your videos with dynamic text overlays, captivating images, and a wide range of music options to create the perfect atmosphere.
Whether you're aiming for a promotional video, an educational tutorial, or an entertaining piece, Kaiber AI has you covered.
With our seamless user interface, you can effortlessly navigate through the video creation process. Its user-friendly platform ensures a smooth and intuitive experience, allowing you to focus on your creativity without any technical hassle.
Experience the power of Kaiber AI and unleash your imagination like never before. From eye-catching marketing campaigns to captivating educational content, This AI-driven video generation engine will take your ideas to new heights. The possibilities are endless, and the results are always stunning.
Don't settle for ordinary videos. Stand out from the crowd with Kaiber AI. Start creating your next masterpiece today and leave a lasting impression on your audience. Get ready to revolutionize your video content creation and make your ideas come to life in an extraordinary way.
ALSO ChatGPT Dan 6.0 Prompt & Jailbreak Prompt: Easy to Use
How does Kaiber AI work?
Step into the world of Kaiber AI and unlock the power to create captivating videos with ease. Here's how:
Navigate to Kaiber AI's website.
Sign up or log in to your account.
Click the "+Create video" button to begin.
Upload initial files to breathe life into preexisting content. You can use your own pictures, audio, or videos as the starting point for your project.
Kaiber AI, an AI-driven video creation engine. Witness the remarkable transformation of static images into captivating videos, each boasting unique styles and subjects that captivate your audience's attention.
ALSO How to use Google Bard : A Comprehensive Guide
Brace yourself for the enchanting wonders of Spotify Canvas, as Kaiber AI effortlessly converts images and text into awe-inspiring masterpieces that are sure to leave a lasting impact.
Prepare to be astounded as Kaiber AI's intuitive algorithms suggest dynamic camera angles, breathing life into your narratives and weaving together compelling stories that resonate with your viewers.
With just a few clicks, select your desired starting frame and choose the mood that perfectly aligns with your vision from an array of options provided by Kaiber AI. The result? A stunning video that encapsulates your artistic essence and reflects your unparalleled creative prowess.
ALSO 100+ Best Midjourney Prompts (High Resolution)
When your masterpiece is complete, it's time to share it with the world. Download your video and let your creativity take center stage, as you showcase your work to an eager audience. With Kaiber AI as your ally, you can elevate your videos to new heights and make an indelible impression on those who experience your artistry.
Features of Kaiber AI:
1.Make Your Imagination Real:
Bring your ideas to life with Kaiber AI generation engine that transforms them into captivating visual stories.
Prompt: I want to create a video of "The main Character" in the style of "here prompt your style".
You can prompt your idea and style in command ,for example:
The main character"cityscape at night, sunset over the clouds,mecha with lasers, snowy garden in winters" and much more..
Style : 3D render, Anime, Steampunk, Art nouveau and much more….
2.Start With Your Own Image: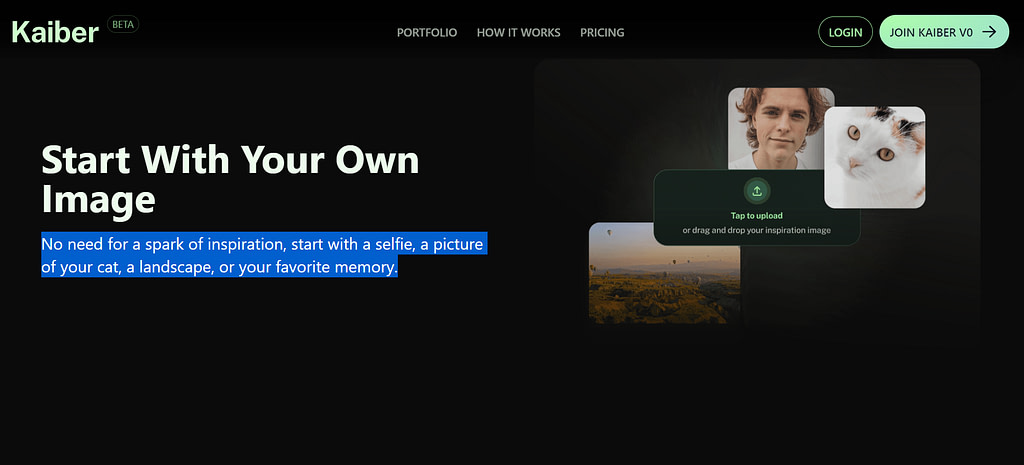 Unleash your creativity without relying on a spark of inspiration. Begin your creative journey by choosing a selfie, a picture of your beloved cat, a breathtaking landscape, or even a cherished memory.
3.Direct your music video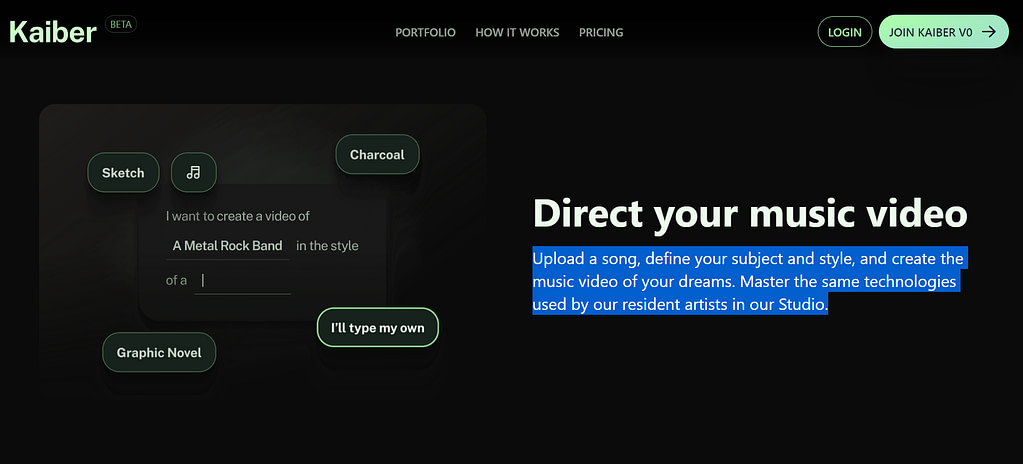 Take control of your artistic vision by uploading your favorite song and defining the subject and style that resonate with your creative aspirations.
With its state-of-the-art technology, you can now create the music video of your dreams, harnessing the very same tools employed by our resident artists in Studio.
Let your imagination soar as you craft a mesmerizing visual masterpiece that perfectly complements your musical creation.
Prompt: I want to create a video of " your fav. band name" in the style of " type your style here"
you can choose your style from options " "sketch, charcoal, graphic noval" Or you can write "your own style" in the command.
4.Adjust your settings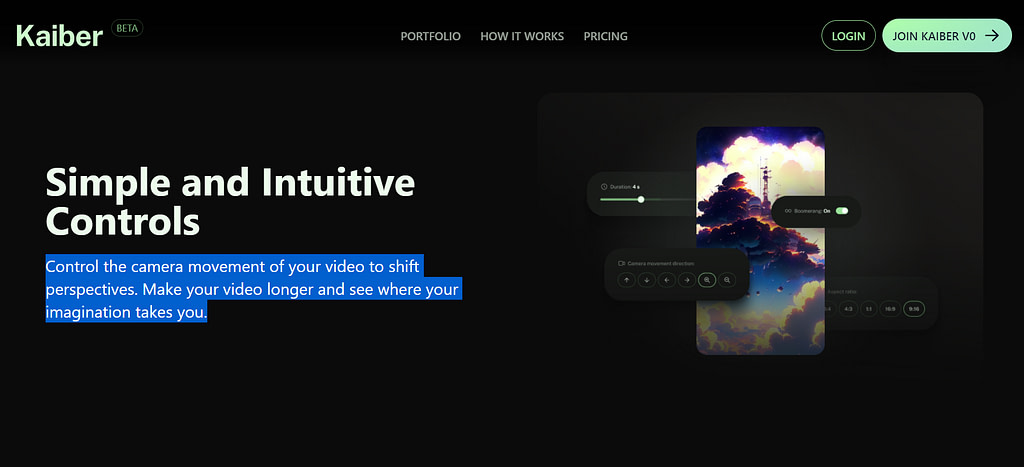 Harness the power to control every camera movement in your video, allowing you to seamlessly shift perspectives and explore new dimensions. Expand the length of your video and delve into uncharted creative territories, where the boundaries of your imagination are pushed to their limits.
With complete control at your fingertips, let your artistic vision unfold and take you on a captivating journey limited only by the depths of your creativity.
5.Select your starting frame

Select your desired mood from a selection of four base images thoughtfully provided by Kaiber AI. These images will serve as the foundation for your creative journey, allowing you to set the perfect tone for your video.
Embrace the unique atmosphere that resonates with your vision and take your content creation to new heights.
6.Download your video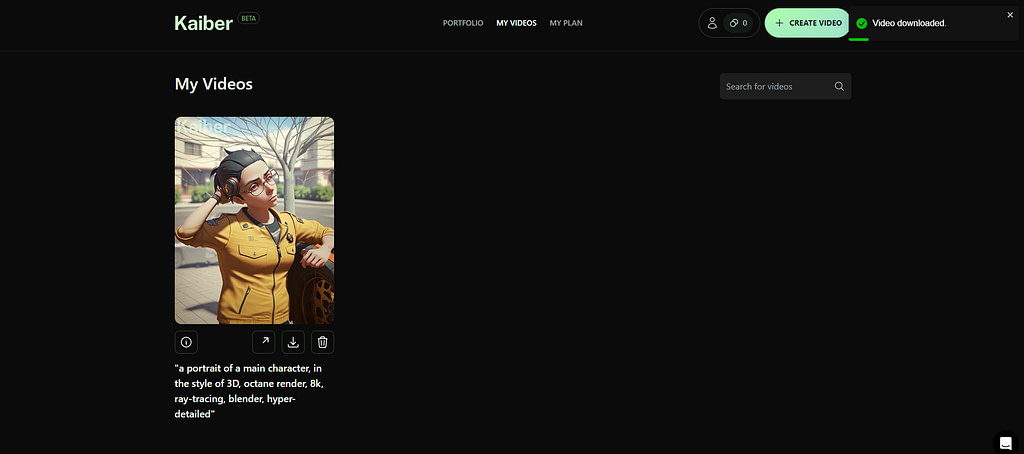 Share your creations with the world and bask in the spotlight as you proudly unveil your work to the public. Embrace the opportunity to showcase your talent, creativity, and unique perspective.
Whether it's a mesmerizing video, an inspiring artwork, or any form of creative expression, Kaiber AI empowers you to confidently bring your creations into the limelight.
Video Generation Process: How Long Does it Take?
Experience the efficiency of Kaiber AI as it swiftly develops style previews, typically within a mere 30 seconds. When it comes to rendering the final videos, the duration may vary depending on their length, taking anywhere from several minutes to hours.
Rest assured, Kaiber AI is continuously working to optimize this process, seeking innovative ways to reduce rendering time and enhance your experience.
With Kaiber AI, you can bring your film visions to life without the need for expensive equipment, professional performers, or elaborate sets.
Join the ranks of renowned artists like Linkin Park, Kid Cudi, Mike Shinoda, and countless others who have embraced the transformative capabilities of AI.
Kaiber AI pricing Free or Paid?
Free Option (Temporarily Unavailable): Get a taste of Kaiber AI's incredible capabilities without spending a dime. Explore the following features included in this option:
30 credits, allowing for approximately 30 seconds of video creation.
Videos will bear the Kaiber watermark.
Maximum video duration of 10 seconds.
Prompt-to-video functionality for easy image upload.
Compatibility with any aspect ratio.
Default boomerang videos.
Ability to upscale videos to 1080p and 4K resolution.
Pro Plan – $10/month or $120 billed annually: Upgrade to the Pro plan and unlock a wealth of advanced features and benefits, ensuring a seamless and enhanced creative experience. Enjoy the following perks:
Receive a generous allocation of 12,000 credits upfront, with credits rolling over each month for added flexibility.
Bid farewell to the Kaiber watermark, as your videos will be free of any branding.
Create videos with a maximum duration of 4 minutes, allowing you to fully express your creative vision.
Experience the transformative power of video-to-video functionality.
Seamlessly upload images and audio to incorporate into your videos.
Select and customize camera movements to craft dynamic and engaging visuals.
Enjoy compatibility with any aspect ratio, tailoring your videos to suit your needs.
Upscale your videos to stunning 1080p and 4K resolutions, ensuring optimal visual quality.
Whether you opt for the free option or upgrade to the Pro plan, Kaiber AI is your ultimate partner in creating remarkable videos. Embrace the excitement and experience the seamless blend of technology and artistry.
FAQs
How do credits work?
Standard Features:
Prompt-to-Video and Image Upload: Enjoy the convenience of turning your prompts and uploaded images into captivating videos. Cost: 1 credit per 1 second of video.
New Feature:
Transform (Video-to-Video / Restylize): Unleash your creativity with the innovative Transform feature, allowing you to revitalize existing videos. Cost: 5 credits per 1 second of video.
Upscaling:
Elevate your video quality with the option to upscale to 1080p or 4K resolutions. Pricing: 1080p = 1 credit per every 10 seconds, 4K = 1 credit per every 5 seconds.
Rest assured, credits will only be deducted from your account once your completed video appears in your Dashboard. Experience the flexibility and control of Kaiber AI's credit-based pricing system as you bring your video creations to life.
Can I purchase more credits?
You can easily purchase additional credits at any time by clicking on your account icon and selecting the "Credits" option.
Simply select the number of credits you wish to purchase, with 100 credits costing only $1.50. This allows you to continue using Kaiber AI's advanced features without any interruptions.
ALSO Top 5 AI Image to Image Generator for Stunning Image Creation